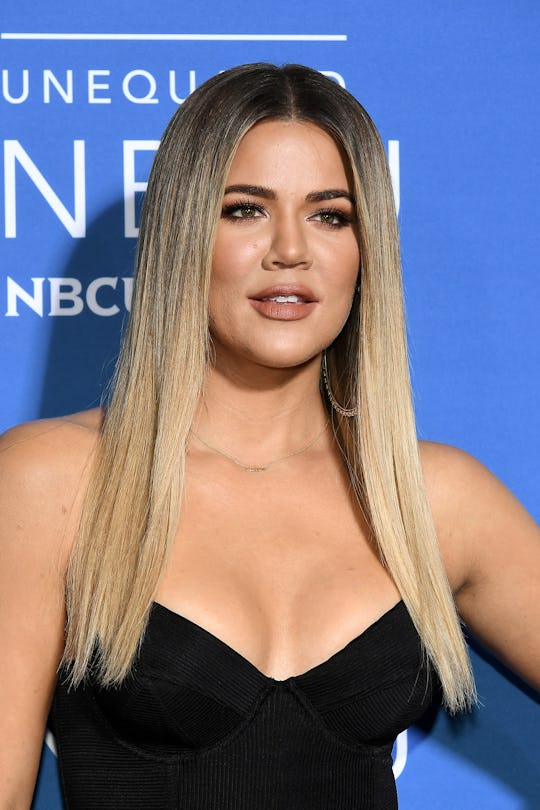 Dia Dipasupil/Getty Images Entertainment/Getty Images
Stop Saying Khloe Kardashian *Finally* Announced Her Pregnancy
In what's being described as an "early Christmas present" to the world at large, Khloé Kardashian announced her pregnancy via Instagram. And since rumors have been swirling for months regarding the impending arrival of a future Kardashian, people (full disclosure: this author included) have been quick to say Kardashian "finally" confirmed that she would eventually become a mother. But here's the problem with saying Khloe Kardashian "finally" announced her pregnancy: there's no damn timeline a woman, regardless of her celebrity status, has to accommodate when sharing news as personal as her choice to procreate. So enough with the "finally." Kardashian didn't owe us anything when she found out she was pregnant, and she certainly doesn't owe us anything now.
US Weekly first broke the news of Kardashian's pregnancy back in September, based on information provided by multiple sources close to the reality TV family. Those same sources told US Weekly that the 33-year-old designer, and her 27-year-old NBA champion boyfriend and future parenting partner Tristan Thompson, are expecting a baby boy. But Kardashian's official pregnancy announcement gave no inclination as to the sex of her still-growing fetus, or her due date. And here's the thing: it doesn't have to. The soon-to-be mom, regardless of her celebrity status, does not owe this personal medical information to anyone: a sentiment mirrored in her pregnancy announcement itself:
The post itself was incredibly moving, and Kardashian touched on the sheer joy, excitement, and fear she feels as she continues on the journey towards becoming a mother. But one sentiment in particular was heartbreaking, to say the least. Kardashian subtly touched on the rumors of her pregnancy, writing:
I know we've been keeping this quiet but we wanted to enjoy this between our family and close friends as long as we could privately. To enjoy our first precious moments just us ❤️ Thank you all for understanding.
And that, dear reader, is where we're at as a celebrity-obsessed, motherhood-romanticizing nation. We have made women, including Kardashian, feel as though their reproductive choices are not inherently their own. We have made them feel as if significant life choices, like pregnancy, are not for them to choose when (and if) to share with their friends, family members, acquaintances, Facebook friends, strangers, and even the world at large. Then again, with nearly 400 anti-abortion laws enacted since 2016 — literally telling women what to do with their bodies — according to the Guttmacher Institute, it's, sadly, not all that surprising that women feel an intense obligation to disclose their reproductive choices to the world, regardless of their personal feelings regarding their pregnancies.
In fact, now that Kardashian has "finally" announced her pregnancy, fans are urging her sister, Kylie Jenner, to announce hers, too. Just take a look at a few Twitter reactions to Kardashian's pregnancy confirmation:
Women do not "owe" the world, regardless of their celebrity status, personal news concerning their pregnancies (or lack thereof, for that matter). We, as women, are not obligated to disclose what is going inside our uteruses. We do not need to feel questions, respond to comments, or provide numerous explanations as to why we've decide to either enter into, or forego, motherhood. This personal life choice is not for others. It is, instead, for ourselves, impacting our bodies, our futures, often times our careers, and usually our families.
Which is probably why Kardashian's Tweet following her pregnancy announcement is so poignant: it shows the sheer determination, and the utter strength, of women.
We are nervous to share our stories. We are afraid, regardless of how "famous" we are (or are not), of what you might think about our reproductive choices. But we share anyway, because we know our stories have power, and we're pleasantly surprised when people are kind.
Check out Romper's new video series, Romper's Doula Diaries:
Watch full episodes of Romper's Doula Diaries on Facebook Watch.