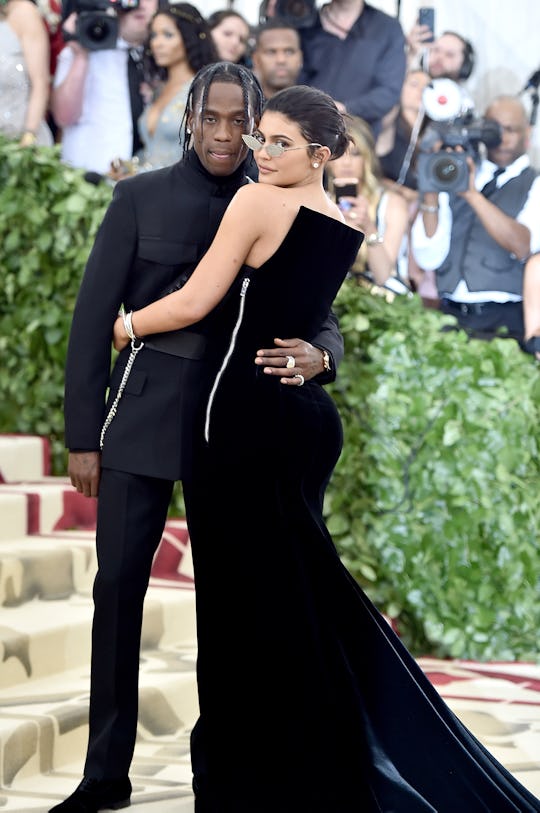 Theo Wargo/Getty Images Entertainment/Getty Images
Kylie & Stormi's Reaction To Travis Scott's Super Bowl Performance Is Priceless
Kylie Jenner recently celebrated her daughter's first birthday, but the family has even more to celebrate. The 21-year-old makeup mogul posted a video of their baby girl Stormi watching Travis Scott's halftime performance on Instagram and it was obvious that the birthday girl was fascinated by seeing her dad on the big screen.
Jenner simply captioned the video, "PRICELESS," which it absolutely was. Clad in a tie-dyed hoodie blocking her face from view, Stormi can be heard giggling and cooing as she watches Scott on a massive screen above her. Just a couple of hours after the Super Bowl halftime show, the post had already racked up over a million and a half likes.
Scott was something of a last-minute addition to the Super Bowl halftime lineup, which Maroon 5 headlined. Due to several stars reportedly turning down the gig in solidarity with Colin Kaepernick, the final performers didn't come together until the eleventh hour. But Maroon 5 frontman Adam Levine was grateful to Scott for signing on to be a guest.
"So Travis... he is it right now. He is the one. Like, this is a moment for him and we love what he does, obviously," Levine told Entertainment Tonight. "We love what he represents because we love having a presence that this is the show that will have the biggest hip-hop presence that there has ever been on the show. I mean, I can't look back and find that to be the case before. He's it, he's the man right now and he comes in hot."
In an effort to drum up some good will amidst the controversy, Scott announced that he, along with the NFL, would be making a $500,000 donation to social-justice non-profit Dream Corps. Variety reported that a source close to Scott said he and Kaepernick had at least one phone conversation about his halftime slot and that "while the two did not necessarily agree, they emerged from the conversation with mutual respect and understanding."
But Kaepernick's girlfriend Nessa Dias swiftly retweeted the report, adding, "There is NO mutual respect and there is NO understanding for anyone working against @Kaepernick7 PERIOD. #stoplying." Kaepernick's peaceful protest against police brutality has largely remained a silent one, but he does occasionally retweet others' support of him. And although he didn't comment one way or another on the truthfulness of Variety's reporting, he did retweet Dias' sentiment, suggesting that things are not as copacetic as the source close to Scott would like them to be.
In the end, no impactful statement was made during the halftime show, even though viewers hoped the acts would find a way to acknowledge Kaepernick and the other players who stood with him, perhaps by taking a knee themselves or otherwise finding a moment of solidarity within their performance. Maroon 5, Travis Scott, and their other guest star, Big Boi, ultimately delivered a no-frills, controversy-free show, which is probably exactly what the NFL was hoping for. But the reviews aren't exactly positive, either. Most viewers felt the show was simply unremarkable.