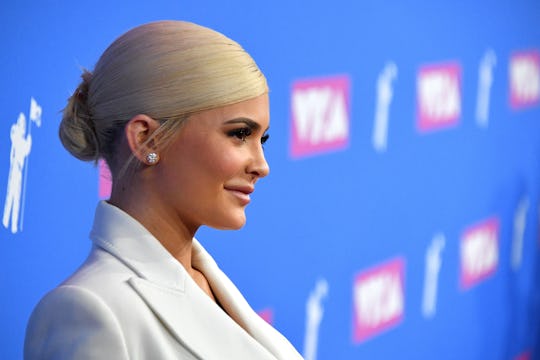 Dia Dipasupil/Getty Images Entertainment/Getty Images
Kylie Jenner's Daughter LOVES This $69 Activity Center
Celeb babies might wear designer clothes, go on European vacations, and eat at the trendiest restaurants, but when it comes to play time, they are just like every other baby on the block. Case in point — Kylie Jenner's daughter, Stormi Webster, who's $69 activity center is a must-have for babies learning to walk.
Little Stormi is just 9 months old, which means she's starting to stretch her legs and starting to think about the whole walking thing. She's most likely mastered crawling by this point. And, as most moms figure out, an activity center like the one Stormi uses provides perfect practice for aspiring walkers. Imagine little Stormi, going round and round as she happily moves those chubby little legs. Adorbs!
The Bright Starts 3-in-1 Around We Go Activity Center is bright, bold and full of fun activities with a sweet baby zoo animal theme. The unique part of this toy is that the walker rotates around the activity center instead of having a centralized spinning seat, like an exersaucer, or being free-moving like a standard wheeled walker. The rotating seat can be removed once your baby outgrows it, and the whole thing can then be used as a free standing activity center. Although the best feature of this contraption might be the three level volume control, so you can turn down the music and sound, if you want a quieter play time. Or, you can forgo it all together.
While there has been some debate about the safety of conventional walkers for toddlers, this one is stationary and resolves many of the safety issues in question, according to Healthy Children. Wheeled walkers can cause harm if the baby accidentally rolls down stairs, falls into water, or moves to a place where they can reach potentially dangerous objects.
All in all, things seem completely on track for life with an eight month old in the Jenner household. And, as Stormi continues to grow, the public is getting to see a lot more of her.
Jenner kept her pregnancy completely under wraps until Stormi's birth last February. That's no easy feat when you're a part of a family that eats, breaths and sleeps a reality TV lifestyle. Although, there was some speculation, according to TMZ.
Stormi's dad is rapper Travis Scott, real name Jacques Webster. But, it is still unknown if Jenner and Scott have plans to marry. Although, she did refer to Scott as "hubby" in a recent Instagram post, which has some fans speculating that the couple became engaged — or even married — in secret.
Here's hoping we get to see more of Stormi on social media. Would we be lucky enough to see her taking her first steps? And when she does walk, what shoes will she wear? Maybe a pint sized pair of Yeezys. Only time will tell!