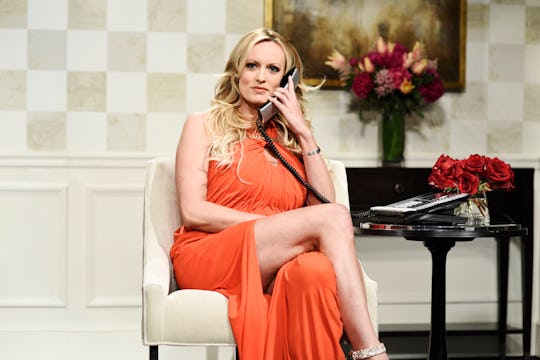 Will Heath/NBC
Stormy Daniels Made A Surprise Cameo On 'SNL' & Twitter Was Here For It — VIDEO
The Donald Glover-hosted episode of Saturday Night Life started with a star-studded cold open: celebrity after celebrity filed in for a political skit that saw Ben Stiller's Michael Cohen fielding numerous calls with Alec Baldwin's Donald Trump and countless other key figures. But the one appearance that really had Twitter talking was Stormy Daniels' cameo on SNL. She definitely stole the scene and took viewers by surprise.
The introductory sketch began with Stiller practically juggling phones as he tried to have a semi-serious talk with Baldwin while the FBI listened in incredulously from an undisclosed location. Stiller's Cohen wanted to get everyone on the same page when it came to getting their stories straight for the public, though it was a difficult process. It seemed like every person he called was another hilarious casting decision (and another unhelpful character): first there was Martin Short as Dr. Harold Bornstein, then Kate McKinnon as a faintly terrifying Rudy Giuliani. There were even a couple of quick cutaway jokes involving Aidy Bryant as Sarah Huckabee Sanders, Cecily Strong as Melania Trump, Leslie Jones as Omarosa Manigault Newman, and Beck Bennett as Mike Pence.
It seemed as though the cameos had reached their pinnacle when Scarlett Johansson popped up as Ivanka Trump with Jimmy Fallon playing a rather high-pitched Jared Kushner. But those were all cast members or actors who had appeared on SNL before. The real shocker was Daniels.
She showed up when Baldwin's Trump convinced Stiller to patch him through to her, hoping to diminish their current scandal and perhaps woo her a little over the phone. Daniels was unmoved, however, remarking that in exchange for making it all go away, she only wanted was a simple resignation. When Baldwin demurred, she promised that a storm was coming before they launched into the weekly "live from New York" line that kicks the show into gear.
The skit was certainly timely, because Daniels' alleged 2006 affair with the president has been in the news for weeks. Considering the cast at their disposal (not to mention all the actors who seem more than willing to appear for a minute or two), SNL probably could have gotten anyone to play a parody version of Daniels in the opener. And the audience may have been anticipating just that, which made the woman herself even more unexpected. Viewers took to Twitter to share their feelings, which amounted to some serious shock and delight.
Some viewers even wanted to see Daniels tackle more than a couple of lines in a single scene; they thought she'd make a pretty good host, and she'd almost certainly rake in the ratings. There was such a positive reaction to Daniels on Twitter that there would probably be more than a few people willing to watch her take on the hosting gig.
A couple of Twitter users even anticipated a response from the real Donald Trump. It's too soon to tell immediately following the episode, but he's commented on SNL before so it wouldn't be a total surprise if some kind of Twitter statement emerged in the next few days.
Stormy Daniels' cameo was one of many on SNL, but the sheer shock factor made it one of the more memorable of the night. The fact that Daniels was game for all the jokes thrown her way only brought it all to the next level. Her performance got viewers talking on Twitter just like it was probably supposed to, and if she continues to be present in the news then it might not be the last fans see of her on SNL.
Check out Romper's new video series, Romper's Doula Diaries:
Watch full episodes of Romper's Doula Diaries on Facebook Watch.