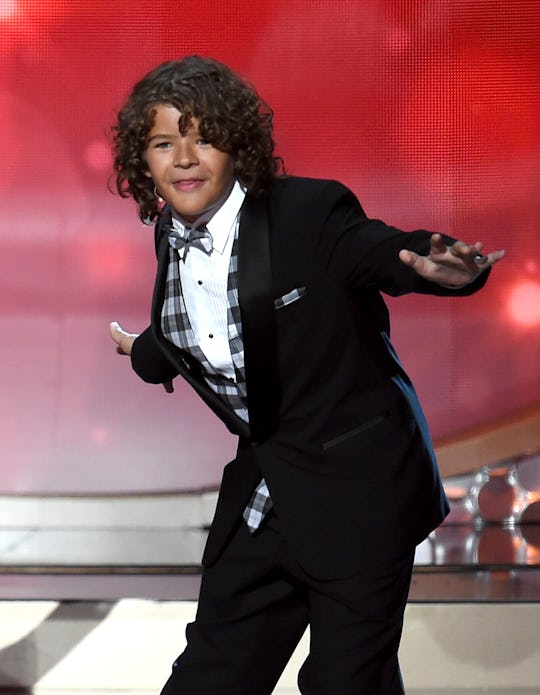 Kevin Winter/Getty Images Entertainment/Getty Images
'Stranger Things' Gaten Matarazzo Opens Up About His Disability & Makes The Internet Proud
Stranger Things, Netflix's smash summer hit, boasted a wealth of buzz-worthy performances, from the triumphant return of Winona Ryder to the introduction of Meryl-Streep-in-training Millie Bobby Brown. But the actor who made the largest impression on the hearts of viewers was Gaten Matarazzo, who played sweet, dorky Dustin. Recently, Gaten Matarazzo opened up about his disability, cleidocranial dysplasia, and the internet responded with an outpouring of love.
Matarazzo spoke about his disability in an interview with his co-stars on The Jonathan Ross Show, describing it as:
... A condition where you are born without your collarbones; I don't have any. It affects your facial growth, your skull growth, it affects your teeth. That's why I don't have any – these are fake right here – I have teeth but they're all baby teeth. I needed a lot of surgery. I have a really mild case and a lot of people have it much worse than I do.
He went on to say that he just wanted to "raise awareness for it and let people know that it's not something that you should be afraid of showing."
He's certainly succeeded in raising awareness, in large part because the Stranger Things creators, Matt and Ross Duffer, wrote the disability into the show for Matarazzo's character. (At one point, he even explains it for the millionth time to the bullies calling him "Toothless.")
Ever since the show premiered, Matarazzo has been receiving messages from other real-life people with the condition, saying how much they appreciate the visibility he's brought to it. He told The Daily Beast,
I've always liked to embrace the condition but other people don't feel the same way. They say that because this was in the show and this is the first time they've heard of it outside the doctor's office, it made them feel really good and it inspired them.
Matarazzo recently told BBC Radio 5 Live that his cleidocranial dysplasia caused him to lose out on many roles before landing Stranger Things, which is crazy because not only is he effortlessly winning, but man, this kid can sing like an angel.
Bet those casting directors who passed on him before are kicking themselves now.
And the Internet may be a notoriously brutal place, filled with trolls and venom, but Matarazzo is getting some well-deserved love from the majority of users on social media:
He's even got a fan in LIN-MANUEL MIRANDA.
Oh, Gaten. Your fans would for sure go into the Upside Down for you.