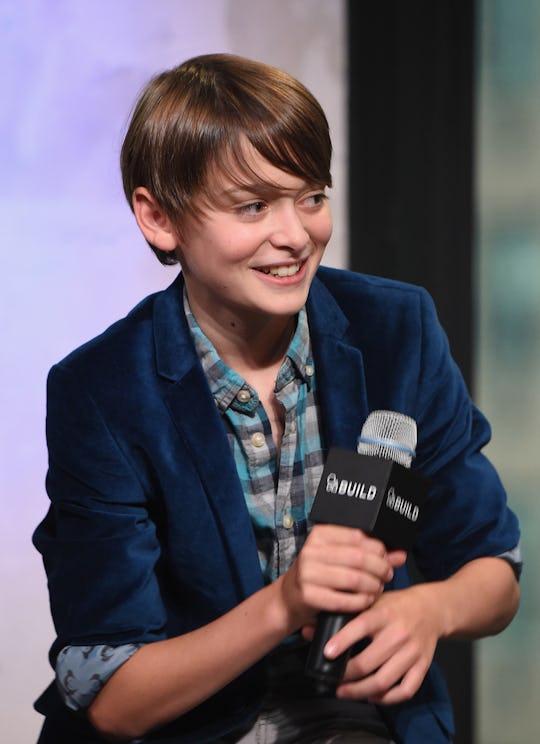 Michael Loccisano/Getty Images Entertainment/Getty Images
'Stranger Things' Noah Schnapp Talks About His Character's Sexuality & Shares A Lesson
It seems that a 12-year-old may have just schooled us all. After fans started questioning whether Stranger Things character Will Byers was gay or not (the topic appeared on Twitter, Reddit, and several blogs), actor Noah Schnapp took to Instagram to clarify his opinion on his character's sexual orientation. Speaking about Will's sexuality, Schnapp wrote, "I hope the real answer never comes out!" His reasoning behind that statement was not only wise, but it was well thought out and beautifully explained.
Posting a picture of a Twitter debate taking place between two Stranger Things fans, Schnapp said it was time to join the conversation. "I think everyone here is missing the point," he wrote, before going on to explain why the unanswered question of Will's sexuality was part of the reason why Stranger Things is such a good show. Schnapp wrote:
An author called Gary Schmidt came to speak at our school this week and he said that good stories aren't supposed to leave you with answers because then you never question yourself and you forget about it. A good book, or a good show leaves a lot of unanswered questions but makes you think. Which is what you are all doing.
"For me," Schnapp continued, "Will being gay or not is besides the point. Stranger Things is a show about a bunch of kids who are outsiders and find each other because they have been bullied in some way or are different. Does being sensitive, or a loner, or a teenager who likes photography, or a girl with red hair and big glasses, make you gay?"
The possibility of Will being gay has been debated across multiple platforms — Geeks Out, for example, ran an article in which Will was referred to as "gay-coded," and in an article for The Advocate, Daniel Reynolds writes that while "there are no obviously LGBT characters" in Stranger Things, "their status as outsiders resonates for LGBT viewers."
Whether or not Will is gay doesn't seem to matter to the actor who plays him, however. "I'm only 12 but I do know we all relate to being different," Schnapp wrote on Instagram. "And that's why I think the Duffers wrote the show the way they did. So you can ask all these questions."
Schnapp may only be 12, but he's had one of the wisest answers I've seen when it comes to the Will Byers debate. The focus shouldn't be on whether or not Will is gay, but rather on how he — and the other "different" characters who come together — are treated by society.