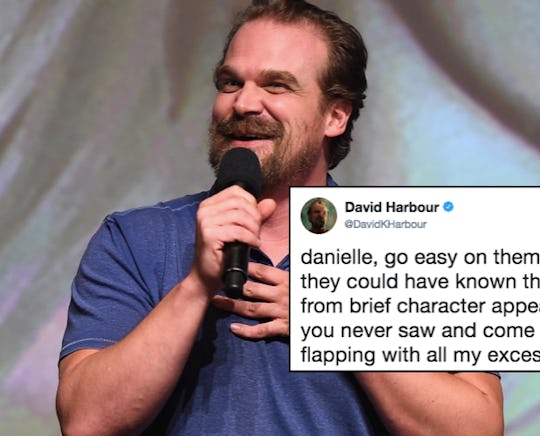 Kevin Winter/Getty Images Entertainment/Getty Images
'Stranger Things' David Harbour Tweeted About His "Dad Bod"​​​ & Of Course Fans Are Obsessed
Body types come in and out of popularity, and celebrities often set the gold standard for what's viewed as ideal. And there's no doubt about it: "dad bods" have been trending for some time, and TV father figures set a fine example. Some men are definitely proud of their dad bods — Stranger Things star David Harbour among them. When writer Danielle Henderson called attention to his perfectly executed version of the dad bod, Harbour responded in a way that had his Twitter followers even more obsessed with him.
"I can't believe you a**holes wasted 'dad bod' on a bunch of absolute chumps BEFORE @DavidKHarbour had his moment," Henderson tweeted on Sunday. Fans were quick to have her know that Harbour's frame has since hardened, given that he's clocked hours upon hours in the gym to prepare for a role as Hellboy in the movie's new reboot.
"My dude is jacked now, though," one user told Henderson, replete with a photo of his intimidating, bulging shoulders and six pack. "Ugh FINE, I guess;" she wrote back. "Encase nice eyes and a kind smile in MUSCLES. More cake for me." More for all of us, honestly.
The best reply, though, came from Harbour himself; his tweet was nothing if not poetic.
"Danielle, go easy on them," he tweeted back. "There's no way they could have known that i would emerge from brief character appearances in movies you never saw and come jiggling and flapping with all my excess midsection into the limelight."
Humbly, he concluded: "I stand on the soft shoulders of great dad bods before me." See? That's poetry.
Perhaps Harbour's being a little too hard on himself. "Jiggling and flapping" aside, we've seen him in films before! The guy was in Suicide Squad back in 2016, Quantum of Solace in 2008, and has been on plenty of TV shows that I totally meant to watch at some point but they just weren't on Netflix. "David, I'll always fondly remember you as several murderers and a silver thief on Law & Order," a fan wrote back.
Harbour, who plays Police Chief Hopper in the Netflix series, explained his relationship to working out in an interview with his trainer, Don Saladino. In addition to offering "before" photos, Saladino delved into Harbour's body history, with Harbour explaining: "I was a chubby kid growing up," and noting that the only time he ever really got in shape was for a college play. According to the blog post, he said, "So from about the time I was 26 years old, to about now I haven't really been training at the gym seriously at all."
At 42 years old, Harbour began to embark on a fitness journey like no other — 10 extreme weeks of it. "I still consider myself a novice at this," he admitted in the post, but the results have been pretty insane.
In addition to training his way to abs, Harbour's final aim, he shared in the same post, was "to look like [he] could hold [his] own in a ring with a heavyweight." Sounds like a pretty sweet goal that he no doubt obtained.
Regardless of where he's going, fans applauded his reply with all of the Stranger Things GIFs that one tweet can handle. Those thirsting for his dad bod were sated by his way with words and the love for Harbour kept spilling forth:
Dad-bodied or hard-bodied, fans will obviously go to the ends of the Earth for Harbour, either way. His 270-character tweet was worth the read, and showed he has reverence for where he's been and has the utmost excitement for where he's headed, despite some not-so-calculated paths he chose to take in Stranger Things Season 2. Maybe the show's third installment will offer him a chance at redemption, ripped or not.
Check out Romper's new video series, Romper's Doula Diaries:
Watch full episodes of Romper's Doula Diaries on Facebook Watch.