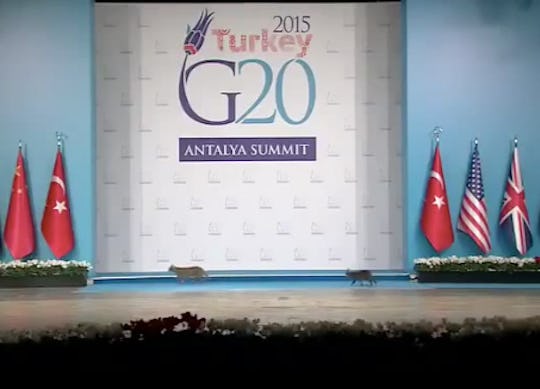 Daily Sabah/YouTube
Stray Cats Take Center Stage At G20 Summit Because, Well, Cats
What has the ability to stop some of the world's most powerful and influential leaders — leaders like Obama, Putin, and China's Xi Jinping — in their tracks? A parade of cats, of course! On Sunday, a group of stray cats took over the G20 summit, a few mere minutes before various leaders were scheduled to appear onstage, reports The Guardian. While it wasn't exactly the appropriate venue for such shenanigans, the cats — in traditional cat fashion — didn't care; they sauntered across the stage and rooted around for food (or a soft human hand, it's not clear which) before running away without so much as a second glance.
The G20 summit marks the tenth meeting of the G20 heads of government. This year's summit was held in Antalya, Turkey, a southwestern city. The two day event brought leaders from all over the world on November 15 and 16, and was held at the Regnum Carya Hotel Convention Centre. While many topics were addressed during the summit, the recent terrorist attacks in Russia, France, Lebanon, and Iraq took center stage... well, along with these cats. Because never one to let us down, Twitter immediately lit up with security jokes and jabs:
As one Twitter user pointed out, Turkey is well known as a hub for stray cats.
Check out these cats making a literal catwalk out of the G20 Summit stage below:
Image: Daily Sabah/YouTube