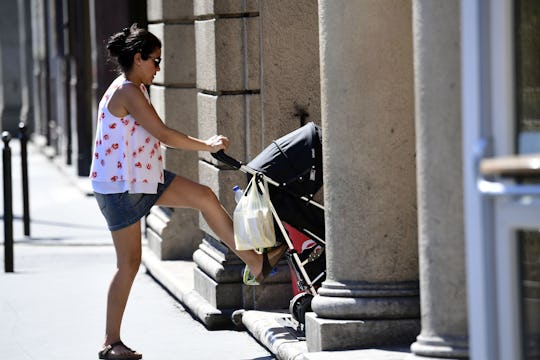 ATTILA KISBENEDEK/AFP/Getty Images
Stroller Accident Study Reveals The High Number Of Children Injured Every Day
A new study published by the Center for Injury Research and Policy at Nationwide Children's Hospital revealed a scary reality for parents and their young children. Strollers and child carriers are essentials for every parent when they want to get out of the house with their kids. Most parents probably never think twice about strapping their babies into a stroller and heading out for a walk. The strollers and baby carriers definitely look safe, but the new study reveals the high number of children injured in stroller accidents every day, and it's a bit alarming.
Kristi Roberts, a research associate at the Center for Injury Research and author of the study, revealed in a hospital news release that while "these products are used safely by families every day, when injuries do occur they can be quite serious." In fact, the study stated, an average of two children per hour are injured in stroller or baby carrier related incidents every day in the United States.
Roberts and her team of researchers reviewed data from the federal government between 1990 and 2010. They discovered that during that time frame nearly 361,000 children 5 years old and younger were treated in emergency rooms for injuries sustained from riding in a stroller or carrier.
The most common injuries were head injuries. This is a troubling fact because both traumatic brain injuries (TBIs) and concussions in young children may have long term effects on their cognitive development. The head and the face were found to be the most affected areas, often by soft tissue injuries such as bruises. The most common causes for these injuries were falling or tipping. Falling was the cause of 67 percent of the stroller related injuries and 63 percent of the carrier injuries. Tipping was a slightly less common cause of injury, however it still accounted for about 29 percent of carrier injuries and 16 percent of stroller injuries.
It's scary to think about the possibility that your child could be seriously injured by something you use in your everyday life. The good news, though, is that the study found that only one third of baby carrier injuries and one quarter of stroller injuries caused serious TBIs or concussions. Only 7 percent of children that suffered from a carrier-related injuries and 2 percent that suffered from stroller-related injuries needed to be hospitalized. The vast majority of children suffered superficial injuries with no lasting damage.
It's important to take precautions when using a stroller or baby carrier. Make sure you properly strap your child in when placing them in whichever kid-mover you prefer to use. Avoid hanging bags or other objects from the handle bars. This can upset the balance and cause the stroller to tip over. Inspect the breaks to ensure the stroller will not roll away and result in falling or tipping. Another important tip to remember is to avoid texting while using a stroller or carrier. A small moment of distraction could result in an injury for both you and your child.
The study released on Wednesday might be a little scary for parents, but it's good to understand the risk factor involved when strapping kids into strollers and carriers. As long as you take all the proper precautions, you and your children should be just fine.