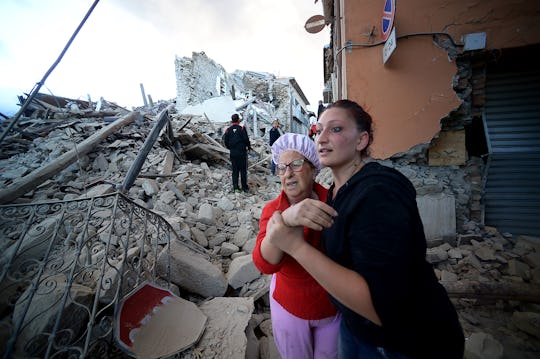 FILIPPO MONTEFORTE/AFP/Getty Images
Strong Earthquake In Italy Levels Mountain Town Of Amatrice
A devastating 6.2 magnitude earthquake struck the mountain town of Amatrice, Italy on Wednesday. CNN affiliate RAI Radio 1 reported that at least six people were killed in the quake with scores more buried in the rubble. The earthquake originally struck just outside the town of Norcia at 3:36 a.m. local time, sending aftershocks cascading through the region.
Update: As of Thursday, Aug. 25, the official death toll from this week's quake has risen to 250, according to Reuters reports.
The quake reportedly occurred at a depth of 10 kilometers, rocking parts of central Italy. The state-run RAI reported that a 5.5-magnitude aftershock struck just four kilometers north of Norcia, (which is located about 169 kilometers northwest of Rome) an hour after the initial tremors.
According to CNN's Ben Westcott, Charlotte Smith, the head coach of Elon University women's basketball team, was situated in Rome when the quake first hit. Smith said the tremors could be felt strongly there as well.
"... It lasted for at least 30 seconds," she said. "The entire hotel was shaking."
In the devastated city of Amatrice, around 150 kilometers northeast of the metropolitan city, the situation was much more grim. According to the Associated Press, the mayor of Amatrice, Sergio Perozzi, said in a statement to RAI that an unidentified number of residents were still stuck beneath the broken concrete and heavy debris. "[The city] isn't here anymore," Perozzi said.
RAI reported that in Pescara del Tronto, in the Marche region just east of the initial epicenter, an elderly couple was killed when their house collapsed. In the nearby Accumoli village, a family of four, including two small children, remained trapped in the rubble, unable to escape.
"We have a tragedy here," one man, Stefano Petrucci, told Rai. "For the moment one death is confirmed but there are another four people under the rubble and they are not responding. It is a disaster, we have no light, no telephones, the rescue services have not got here yet."
Back in Amatrice, Mayor Perozzi noted that communication with emergency responders had not been successful. "Half the town is gone," he reiterated. "There are people under the rubble... There's been a landslide and a bridge might collapse." Perozzi added that he had not been able to reach the hospital either. The once scenic vacation town, popular with Romans seeking cooler temperatures during the summer as The Guardian pointed out, had essentially been leveled.
Ascoli Piceno province resident Flavio Maccarone, 35, told news.com.au that the tremors continued, despite the rescue efforts and nearby regions' attempts at regaining a sense of calm. "[The] aftershocks keep going so we are outside praying that it stops soon ... We feel terrified," he said, adding,
It feels like we are experiencing again the Perugia quake in 1997 or the Aquila quake in 2009. It never ends. We cannot sleep in peace. We are trying to stay calm but it is hard. Our poor people and all our history is damaged. You can't control it. There is nothing you can do. We feel hopeless. The quake affected such a wide area it is hard to send targeted help.
As rescue efforts continue, the death toll is expected to rise.