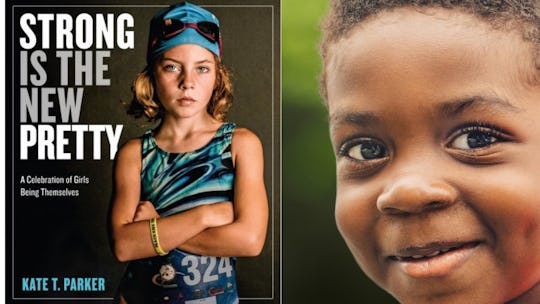 Workman Publishing
Boys Get A Boost With Their Own Book Of Inspo — & We Have The Cover Reveal
By now, you've seen her on bookshelves, the steely-eyed tween swimmer staring out of you, her strong little arms crossed in a pose that is so packed with attitude it takes a moment to understand what is so revolutionary about it. The cover image from Strong Is The New Pretty, the girl embodied the message photographer Kate. T. Parker wanted girls everywhere to hear: "You are enough," "You are amazing," "You have value," as Parker tells Romper. The girls photographed in the book were in their element — a corrective to messages that teach girls they should be pretty, people-pleasing, diminutive. At first, Parker didn't even think about doing a boys' book. But once she started photographing boys, she realized that our sons are very much exposed to limiting ideas about masculinity, emotion, identity. Offering something freeing and empowering for boys was the thought behind Parker's next book, The Heart Of A Boy.
Parker believes that we need to affirm how multifaceted our boys are. That boys still need to hear that they are valued for who they are and that there's no one way to be a boy. Her book shows that you can be fierce and tender, loud or shy. There's a lot to the hearts of our boys.
"It is time to talk about our boys. We've all lived the headlines and have been forced to confront #MeToo, school shootings, bullying, and other toxic behavior," Parker tells Romper by phone. "There's a national conversation going on about what defines masculinity and how to raise sons to become good people."
I want our boys to know they can be brave and strong and kind and vulnerable — all at the same time.
That cause is captured in the boy on the cover of the book, who wears a superhero cape and offers up a cheeky, dimpled smile. I love the flowing cape. This kid is going places. It's a photo of our boys as they are before they grow and encounter ever-more complicated gender dynamics. Romper has an early look here:
The messages that we send our boys start with the images we offer to them of what boyhood looks like, Parker explains. "We need to look at what we are saying and showing our boys about who they are allowed to be."
Just as much of the work breaking down gender barriers for girls has focused on demystifying gender stereotypes, there is lots to demystify about presentations of boyhood. "The current idea of masculinity is outdated, and boys often face a simplistic view of what expected and desired from them," says Parker, including messages like "Man up," "bro code," and "boys don't cry."
Even when we are seemingly empowering of boys, the messages are instructive: "Be strong. Be a leader. Be confident. Be athletic. Don't be weak or emotional." Parker instead wants to encourage space for boys to feel, to express emotion, to be soft or shy or kind as well as strong.
"The vulnerability, kindness and softness that I so admired in the boys I photographed for The Heart of a Boy is not generally applauded," Parker says. "That must change. I want our boys to know they can be brave and strong and kind and vulnerable — all at the same time. One does not cancel the other out."
Parker believes that — as with our girls — who boys are at their core is something to be celebrated.
And just as every person felt an immediate connection to the girl on the cover of Strong Is The New Pretty, I have no doubt that the boy on The Heart Of A Boy will be as emotionally received.
The Heart Of A Boy will be on sale on April 2, 2019, from Workman Publishing. But while we wait for April to come along, we can all still enjoy Strong Is The New Pretty. (17.95, IndieBound)