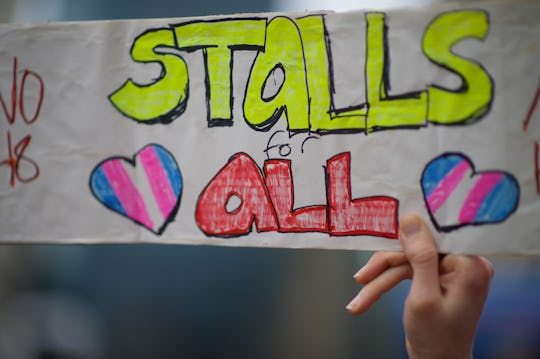 Mark Makela/Getty Images News/Getty Images
A Surprising Transgender Bathroom Suit Is Making Waves
School bathroom lawsuits are nothing new in this day and age. Transgender students have been fighting for the right to use the bathroom that matches their gender identity for years now, and the fight has been met with renewed pushback in the past year, thanks to a wave of divisive legislation in several states. However, a recent lawsuit filed in Pennsylvania is now trying to upend past lawsuits that allege that transgender students are at the highest risk of being discriminated against when using the bathroom (a fact that's backed up by statistics). This new lawsuit, BuzzFeed reported on Tuesday, was filed by a student who claimed that sharing the bathroom with transgender students — specifically a transgender boy in this case — made him feel "humiliated." Already, it's gaining plenty of attention from both sides of the divide.
The boy, anonymously known as Joel Doe, is suing the Boyertown Area School District in United States District Court for allegedly infringing upon the boy's constitutional and civil rights. According to a report from BuzzFeed, the "plaintiff has experienced embarrassment and humiliation, both in terms of being viewed and viewing a student of the opposite sex in a state of undress and because of the stigmatization and criticism he received from other students and adults." Doe, a junior, alleges that a transgender boy was in the boy's locker room while he was changing clothes, and that he felt uncomfortable at the presence of a "female" in a male-specified room.
Doe is being represented by a conservative Christian legal team from Alliance Defending Freedom, as well as the Independence Law Center. His attorneys claim that the school failed to inform parents that students could choose which bathroom facility to use based on their chosen gender identity, even going so far as to say that the school made the decision "secretly."
The 31-page complaint also alleges that the boy felt so uncomfortable at the thought of changing in front of a transgender boy, that he chose to wear street clothes to gym class, causing "disciplinary action and poor grades."
Along with compensation for damages, the plaintiff is also requesting "a permanent injunction enjoining the District Defendants' policy and ordering the District Defendants" to adhere to a female-only and male-only bathroom and locker room policy.
This new lawsuit isn't the first dealing with student bathroom usage to crop up in the state of Pennsylvania. A case suing another Pennsylvania school district for not allowing students to use the bathroom of their choice made national headlines just last month. One of the plaintiffs was Juliet Evancho, sister of Trump inauguration singer Jackie Evancho. However, Evancho and the other plaintiffs won that case, making the potential outcome of this new lawsuit that much more interesting.
Doe is claiming the school district's bathroom policy "intentionally produces unwelcome sexual harassment and creates a hostile environment on the basis of sex." His claims are a stark contrast to usual school bathroom lawsuits, and are sure to send shockwaves across the country.
No court date has been set, as of yet, but a statement from the school district states that "the attorneys have given the district until April 4, 2017 to formulate a response. Boyertown Area School District is reviewing this matter with our legal counsel and has no further comment at this time."