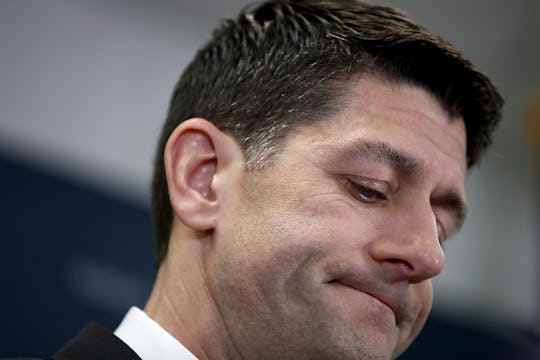 Win McNamee/Getty Images News/Getty Images
100 Students Refuse To Pose For Photo With House Speaker Paul Ryan
Classroom visits, meet and greets, and photo ops with students are all occasional, if standard constituent obligations for members of Congress: Shake a kid's hand, smile for the camera, click. But for one group of students from New Jersey's South Orange Middle School, they were having none of it. On Friday, nearly 100 eighth grade students refused to take a photo with Paul Ryan, the Wisconsin representative and current House Speaker. Instead of smiling for the camera, these students chose to sit in the parking lot across the street to show their dissent.
The eighth graders from the Garden State trekked down to Washington, D.C. for a field trip, where they got rare opportunity to snap a group photo with House Speaker Ryan as they toured the Capitol Building Friday. According to The Village Green, half of the students present opted out of the photo op as the rest of their group assembled on the Capitol Building steps with Ryan. "It's not just a picture," student Matthew Malespina told local affiliate ABC 7 News. He continued, "It's being associated with a person who puts his party before his country." Pardon me as I take a step back to admire this kid's unabashed chutzpah.
Ryan posted a picture of the photo op to his official Instagram account, showing him striding up to the group while shaking hands with one student. "Got that #FridayFeeling," Ryan captioned the photo. Not shown were the other 100 students sitting peacefully across the street.
According to The Village Green, several other students were also willing to share their reasoning in their act of pint-sized political resistance. Student Louisa Maynard-Parisi, said, "I didn't want to be in [the picture] because he believes in most of what Trump believes in." Wendy Weeks, another eighth grader who refused to be in the picture said, "I think that taking the picture represents that you agree with the same political views and I don't agree with his political views so I chose not to be in it."
Some parents were critical of the kids who weren't in the photo, calling them disrespectful of the House Speaker's authority. Malespina's mother Elissa couldn't be prouder. "I am proud of my son and all the other students who chose to respectfully not to participate in the photograph with Speaker Ryan," she told The Village Green.
Student Miles Handelman was one of the students who did join in the photo. For him, it was about seizing a rare opportunity he might not otherwise have, saying, "I thought it would be very cool just seeing the man who is the third most powerful man in our country. It would be cool, even if you disagree with him."
In the aftermath of an otherwise normal school trip to the nation's capitol, an even bigger and perhaps more important lesson in civics has emerged: Should citizens respect their leaders without question — or must that respect be earned, regardless of their role? For the eighth graders of South Orange Middle School, answers to those questions were split 50/50 when half of their group stood with Ryan, while the rest sat across from them exercising the very essence of their First Amendment rights.
While these kids might not yet be old enough to vote, there's no denying that the Trump administration will have lasting effects on their futures as Americans — so mad respect to these kids for taking such an emboldened stand.