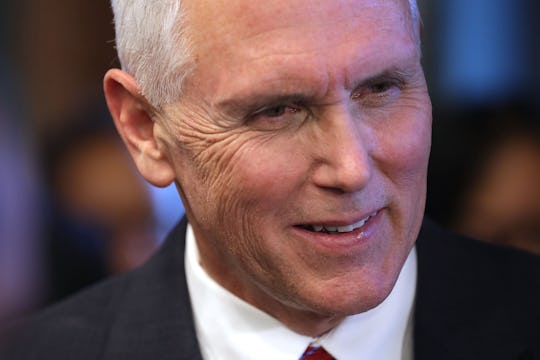 Chip Somodevilla/Getty Images News/Getty Images
Students Walk Out During Mike Pence's Commencement Speech
Silent protest is powerful, especially when done in the face of authority. Some young activists at Notre Dame University now know this first hand. During graduation on Sunday, a large group of students walked out during Mike Pence's commencement speech and the clip immediately went viral, for obvious reasons.
At the commencement ceremony for the Catholic university in Indiana, Pence was the speaker of honor. But instead of general applause, Pence was greeted with mixed reactions. As the vice president took the podium and began to greet the audience of graduates, faculty, and their family and friends — a group of students began walking out, turning their backs on the former governor. The video of the students, who begin marching out in numbers and continue to file out of the ceremony is both strong and powerful — showing unity and standing up to authority for so many of those who do not have the platform to do so.
Pence was not Notre Dame's first choice for the 2017 commencement ceremony, President Donald Trump was. But, according to The Washington Post, thousands of students and faculty members signed a petition asking the school not to invite the president to speak. Instead, the university chose Pence, who was met with equal frustration.
This protest was not unexpected. CNN reported on Thursday that Notre Dame students were planning for a while to walk out during his speech before it happened on Sunday. The students cited Pence and his policies for targeting "marginalized people on the basis for their religion, skin color, or sexual orientation" as the basis for the walk-out, according to CNN.
But university officials were unbothered by knowing that students were planning on walking out. "We're not concerned," Paul Browne, spokesperson for Notre Dame told CNN. "We think they will be respectful in the way they express their differences with the administration." The students were definitely respectful, silently carrying out their protest — but according to IndyStar were not able to re-enter the ceremony once they left.
Pence, meanwhile, remained unfazed, delivering the speech to completion, and calling the graduates of Notre Dame "a generation of promise." Pence was greeted a little more warmly when he delivered his first commencement address to students at Grove City College in Pennsylvania, on Saturday. "If you aspire to lead, you need courage, because leadership brings both honor and opposition," Pence said on Saturday.
The students who walked out on Pence during Sunday's commencement channeled that kind of courage Pence spoke highly of, standing in opposition of Pence's leadership. Their bravery is what makes their stance so powerful.