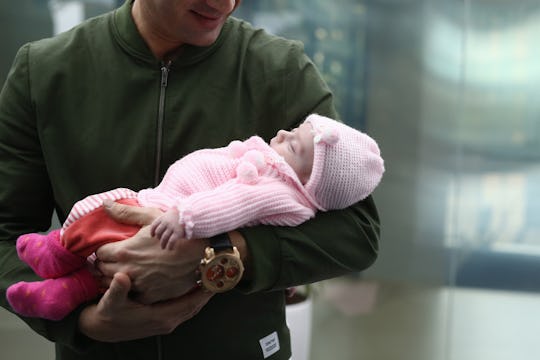 Andreas Rentz/Getty Images Entertainment/Getty Images
These Studies About Happiness During The Newborn Phase Will Help Parents Feel Less Alone
Expecting parents are often told how they'll feel after welcoming their child into the world, which can definitely get tiresome. Although the experience of parenting an infant is often different for each parent, researchers determined that parents struggle with happiness the most during the newborn phase of their children's lives, according to The New York Times. Considering infants can be super stressful (insert one of the million examples available here), the findings confirm what most parents probably already suspected.
A British study published in The Archives of Pediatrics and Adolescent Medicine found that a parent's susceptibility to depression is at its peak in their child's first year of life, while as time goes on, a parent's level of depression tends to taper off. The findings were based on data collected from 7,000 families in the United Kingdom between 1993 and 2007, according to Science Daily. The 2010 study found, according to the New York Times:
Over all, 39 percent of mothers and 21 percent of fathers had experienced an episode of depression during the first 12 years of their child's life. After the first year of parenting, a mother's risk for depression dropped by half, while experienced fathers faced only about a quarter of the depression risk compared with new fathers.
As for why parents struggle the most during the newborn phase, Irwin Nazareth, one of the study's researchers, explained, according to the New York Times:
We can hypothesize based on existing knowledge that the arrival of a newborn baby is stressful for both parents on account of lack of sleep, change in their responsibilities and the demands made on the couple's relationship.
Yep, sounds about right.
Obviously, not every parent with a newborn experiences feelings of depression. Although newborns are inherently stressful, some parents have stronger support systems than others, and this can alleviate any difficult emotions that may surface. Low-income and/or single parents are at a greater risk for depression because they tend to have more strained support systems, according to Theravive.
Additionally, experiencing parenthood for the first (or second, third, etc.) time is as emotional as it gets. Caring for a tiny human isn't always easy, and postpartum feelings can be rough. The good news is that you're not alone in any difficult feelings you may be experiencing. A recent study published in the journal Demography determined that "in the years immediately following the birth of a child, more than two-thirds of respondents, men and women alike, reported a significant decline in their levels of overall well-being," according to Vanity Fair. The study surveyed more than 2,000 Germans, and followed the participants for "two or more years after the birth of their first child following the births of their children," according to the New York Post.
Yikes. Not all super heroes wear capes, right?
If you're a new parent or going to be one soon, this study highlights an important point: your mental health is important. Parenting an infant has its challenges, and it's more than OK to be kind to yourself as you experience its ups and downs.