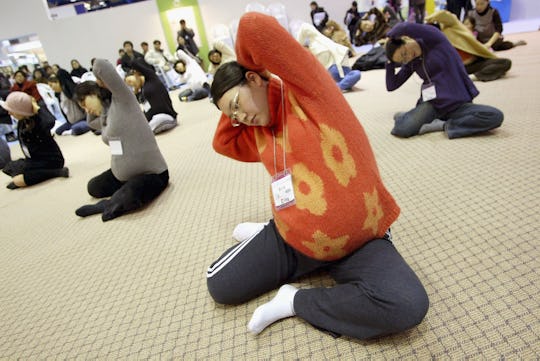 Chung Sung-Jun/Getty Images News/Getty Images
Studies On Pregnancy & Exercise Show Many Benefits
Tennis legend Serena Williams found out she was pregnant two weeks before the Australian Open, which she won in January. In a sit-down interview Tuesday with journalist Gayle King, Williams said she was nervous after she learned the news and was unsure if she should compete. Williams ultimately decided she needed to play the tournament for her career, she told King during their TED2017 talk. Williams' pregnancy news has sparked debate over whether it's safe to workout while carrying a child. Though not possible for everyone, studies on pregnancy and exercise have shown lifelong benefits for parent and child.
According to the Mayo Clinic, staying active during pregnancy can have a positive impact on you and your baby's health. Exercise can help improve sleep and mood, increase energy, help build strength and endurance, and reduce pregnancy-related issues like backaches, bloating, swelling, and constipation. It may also help reduce your risk of developing gestational diabetes, a pregnancy-related condition that affects 9.2 percent of pregnant people, according to the U.S. Centers for Disease Control and Prevention.
Research has also shown that working out while pregnant can also benefit your baby. A 2010 study published in Early Human Development, for example found that regular exercise during pregnancy can lower both parent and fetal resting heart rates; lower resting heart rates are linked to lower risks of heart disease, according to Harvard Medical School.
That's not all. Research published in 2014 by the University of Virginia School of Medicine suggests that staying active during pregnancy can help reduce your baby's diabetes risk later in life. Particularly, the researchers determined that exercise could prevent "a damaging epigentic effect," where nongenetic influences such as eating a high-fat diet can cause changes in gene expression that lead to certain conditions like diabetes in the unborn child.
Though exercise during pregnancy has shown to have its benefits, it is not for everyone. There are a multitude of reasons why a person cannot stay active during pregnancy. For example, exercise could worsen underlying health conditions such as heart disease or lung problems. Or it could put you and your baby in danger if you are dealing with high blood pressure. Any pregnant person who wants to start exercising during pregnancy should speak with their doctor first to get the OK, as well as come up with a mindful exercise plan.
Medical concerns aren't the only reason to not exercise during pregnancy. It could be an issue with time, ability, or mental state. Whatever your reason, you should not feel pressured to join prenatal yoga class or a running group if you're expecting. You know what's best for you and your baby, so trust your gut.