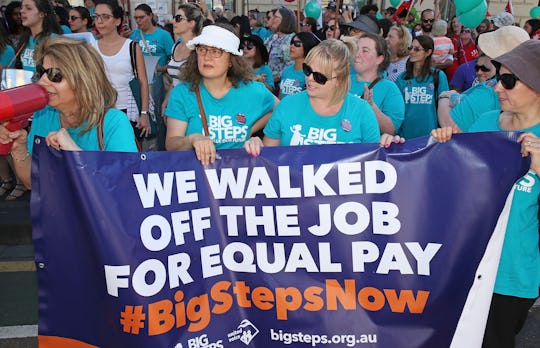 Scott Barbour/Getty Images News/Getty Images
Study Analyzes Mothers' Wage Gap By Race & State
By now, most people are fairly aware of the wage gap women face in the United States — a chasm that often grows wider when women decide to make the leap into motherhood, with moms earning an average of only 71 cents for every dollar earned by a man doing the same work. But according to a recent analysis by the National Women's Law Center, the wage gap for mothers also varies widely depending on a mom's race and the state she lives in.
Despite the fact that 42 percent of all mothers in the country are primary or sole breadwinners for their families, the wages of full-time, year-round working mothers still pale in comparison to fathers' earnings for the same work, according to the Center for American Progress. Unfortunately, it gets worse: as the National Women's Law Center found in its recent analysis, some mothers have it far worse than others, depending on their background or where they currently live.
First of all, how much a mom typically earns depends largely on her race. Overall, the average mom in the United States will earn only 71 cents for every dollar a white, non-Hispanic dad earns. When broken down by race, however, the disparities become even more shocking: for every dollar a dad earns, an Asian or Pacific Islander mother earns 85 cents; a white, non-Hispanic mom earns 69 cents; a mom of color earns 51 cents; a Native mother earns 49 cents; and a Latina mom earns only 46 cents, according to the NWLC.
But moms' wage discrepancies aren't determined by race alone — there's another surprising factor that plays into the wage gap, according to the NWLC. Depending on which state you live in, the wage gap mothers face may be more or less prominent. For moms overall, living in Delaware — where mothers earn an average of 83 cents for every dollar a father makes — is a far more profitable choice than living in Utah, where a mom generally earns only 58 cents to a dad's dollar. (In both states, fathers' median earnings are $60,000, but mothers in Delaware have a median salary of $50,000, while Utah moms earn only $35,000.)
If you're scoping out where to move next, Delaware, Montana, South Dakota, Nevada, and Hawaii ranked as the five states where moms were paid most. If moving is not in your plans, however (or if you're understandably concerned that fathers out-earn mothers in all 50 states), make sure your representatives and employers learn how to combat the wage gap. According to The New York Times, research has shown that moderate-length parental leave (for both moms and dads), as well as subsidized child care, could go a long way in helping achieve pay equality.
If the country sees the wage gap tackled by both employers and the government, moms in the United States might just start earning the same amount as fathers do — regardless of their race or the state that they live in. And that's exactly the kind of widespread progress that we need.