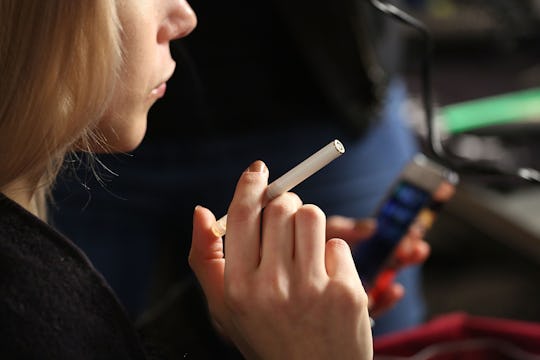 Mireya Acierto/Getty Images Entertainment/Getty Images
Study Says E-Cigs Are The Best Way To Quit Smoking, But Are They Safe?
Quitting smoking is one of the hardest things to do, but if you're making a New Year's resolution to quit for good, there are tons of resources out there to help you. Along with a ton of will power and support, a new study shows that e-cigarettes are the best way to quit smoking for some people. E-cigarettes are a nicotine delivery system, so smokers are still getting nicotine, but not the harmful byproducts that come with regular cigarettes, which Matthew Carpenter, a tobacco control and addiction expert at the cancer center at the Medical University of South Carolina (MUSC), who led the study, calls the most dangerous form of nicotine delivery.
The study was done with 68 smokers, with 46 of them allowed to use e-cigarettes however they wanted and then 22 in a control group. The ones who got the e-cigarettes were given either a high or low dosage of nicotine and evaluated over the course of four months.
When given the e-cigarettes without any requirements about its use, the participants were more likely to use it and eventually buy their own. They also smoked less and had a greater rate of quitting altogether, which means that the e-cigarette might be a good first step for smokers who have tried to quit before with other nicotine products, such as the patch or gum.
As all smokers know, it's often just as much about the habit of "smoking" something as it is getting a nicotine fix.
Carpenter said in a press statement released by MUSC, "The results are consistent with trials done outside the U.S. Many people rated the e-cigarettes similar to their usual product, which further suggests that these products might promote switching."
He added that, "anything that gets smokers off combustible cigarettes is a good thing." The Food and Drug Administration just recently approved e-cigarette usage and there are currently over 1,500 on the market, all with different features. Carpenter stressed that e-cigarettes aren't for everyone.
He said in the same statement, "We know e-cigarettes are safer than traditional cigarettes, but that doesn't mean e-cigarettes are completely safe." The main worry he has is protecting non-smokers from using e-cigarettes as a gateway to actual smoking, which is obviously not what public health officials and cancer researchers are going for.
"It is important to protect non-smokers, particularly adolescents and young adults, from starting any nicotine-containing product. This is something we need to really guard against," Carpenter added.
That's a valid concern, since a 2015 survey done by the Centers for Disease Control and Prevention found that e-cigarette use is on the rise especially among teens, even though one in five middle school students say they've never tried a "real" cigarette.
One girl told NPR that she likes the "vape" because of the flavors, which vary from things like pineapple to gummy bears. It's attractive to kids, who use #VapeLife to share pics of themselves blowing smoke rings on social media.
Dr. Cathy McDonald, who runs a tobacco treatment and cessation organization in California told NPR that there's not a lot of research yet about what harm an e-cigarette can do, though smoking an e-cigarette for ten minutes can already lead to increased airway resistance. However, "it's probably better than smoke. And I say that because smoking a cigarette is 4,000 chemicals — 400 are poison, 40 cause cancer," McDonald added.
So e-cigarettes are useful tools for people trying to cut down on their intake of all of those chemicals, but they aren't by any means "better" than smoking. The FDA seems to agree, since along with approving e-cigarettes for retail, it also pledged to do more outreach, especially to younger people, about the dangers of starting to use nicotine at all, no matter how they do it or what flavor it is.
But if you're a grownup looking to make a life change for 2018, it's not a bad way to start.
Check out Romper's new video series, Romper's Doula Diaries:
Watch full episodes of Romper's Doula Diaries on Facebook Watch.