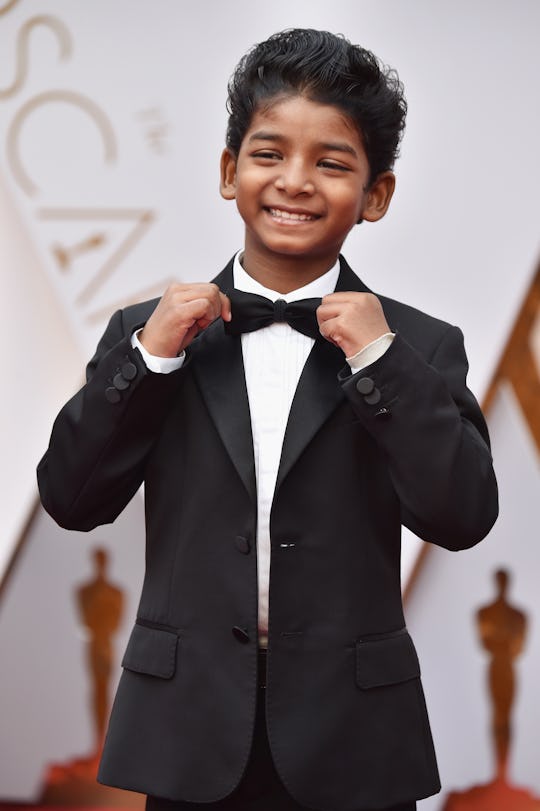 Frazer Harrison/Getty Images Entertainment/Getty Images
Sunny Pawar Just Won The Oscars Red Carpet
Most Oscar seasons have at least one adorable, precocious kid who steals the show. Last year, it was Room's Jacob Tremblay and Beasts of No Nation's Abraham Attah. A couple of years earlier, it was Beasts of the Southern Wild's Quvenzhané Wallis. And this year, it's one of the tiny stars of Lion. Sunny Pawar just won the Oscars red carpet.
In Lion, he plays the younger version of Dev Patel's character, Saroo, a little boy who gets lost on a train in India, figures out how to survive alone in the city of Kolkata, and is eventually adopted by an Australian family. And that's just the film's first act! As an adult, armed with nothing but Google Earth and his fuzzy childhood memories, Saroo goes back to India in search of his family and home.
Obviously, such a heartfelt and moving story hinges on finding a lethally cute and sympathetic kid to play the tragic young Saroo, and Pawar is definitely that actor. He almost didn't make it to the States in time to work the awards show circuit, due to a snafu with his visa. Pawar was initially denied a US working visa, forcing the Weinstein Company to make an appeal to the Department of Homeland Security and US Customs and Border Protection for special permission to allow the boy into the country.
Although most of the attention this year is going to the nominated filmmakers who can't attend because they are from one of the seven Middle Easten countries affected by President Trump's travel ban, the problem of artists not being able to get into the country for the Oscars is an old one. At the 2009 Oscars, singer Sukhwinder Singh was slated to perform his nominated song "Jai Ho" from the film Slumdog Millionaire (which, incidentally, also starred Dev Patel and a bunch of cute kids). Unfortunately, his visa never came through and he was forced to miss the opportunity of a lifetime.
Luckily, Pawar's permissions came through and he's been working red carpets ever since with his trusty translator by his side. When Ryan Seacrest interviewed him on the E! red carpet at the Oscars, he politely (and succinctly) answered all the questions he could in English and then deferred to his translator for the rest. He communicated that he was excited and he felt great to be at the Oscars, and he also courteously thanked Seacrest for complimenting his hair. (It was looking especially lush.) We've already gotten an amazing bowtie-straightening gif out of him tonight, so who knows what else could happen.