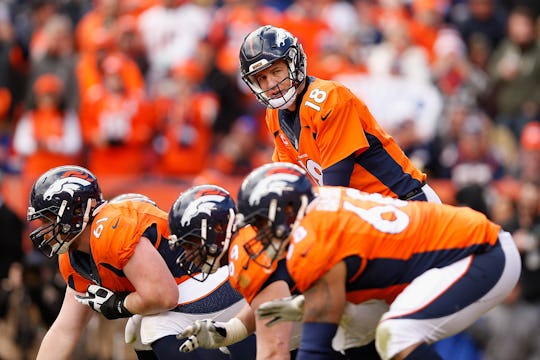 Christian Petersen/Getty
Super Bowl 50 Broncos Memes That Prove Denver Fans Can Bring On The Smack Talk
Football fans wear their pride on their sleeve and, in some extreme loyalist cases, on their face, hair, and other parts of their body. Of course, that pride shines brighter than ever if their team makes it to the Super Bowl. Thanks to social media, there are other ways to show your pride besides donning a player's jersey and dying your hair to match the team colors. Yes folks, I'm taking about sending some smack talking memes. And for those who bleed orange and blue, that mean sending some Super Bowl 50 Broncos memes.
Smack-talking is part of being a football fan, and Broncos fans have plenty of insults up their sleeve for Super Bowl 50. After all, Panthers fans seemed non- existent until Cam Newton took the field. Broncos fans, however, have been around for years, even before Peyton Manning came along. And given their team's eight Super Bowl appearances, they have earned those bragging rights.
Even players are getting in on the trash talking. During a press conference on Wednesday, Feb. 3, Denver Broncos wide receiver Emmanuel Sanders said Carolina Panthers cornerback Josh Norman was "a media creation" and couldn't understand what the hype was about. Fighting words indeed.
Of course, Broncos fans were a little more creative with their insults when it came sharing their Super Bowl 50 Broncos memes:
Welp, long live the Broncos.