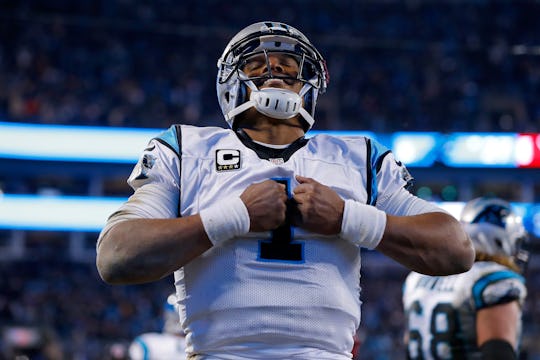 Kevin C. Cox/Getty Images
Super Bowl 50 Panthers Memes That Prove South Carolina Fans Can Give As Good As They Get
Even the most hardcore football fans need a laugh from time to time. That especially applies during the post-season, when the stakes are even higher and taking home a big win in imperative. With that in mind, let's all thank god for the myriad of terrible jokes, "Creedbombs", and scores of hilarious Super Bowl 50 South Carolina Panthers memes circulating on social media, that will help us all get through Sunday's big game, sans nail-biting.
No American football game would be complete without a little healthy smack-talk of course. Prior to Sunday's matchup between the Panthers and the Denver Broncos, there was more than enough of that to go around. "Sorry for the inconvenience, but we're currently out of SMOKED BRONCO," a South Carolina based supermarket wrote on its deli sign, according to one eagle-eyed Twitter user. "Check back on Monday, Feb. 8." (Burn.)
Over on the other side of the fence, Broncos fans themselves seemed prepared to do their worst as well. "After review, no mention of the Panthers on your [social media] timeline prior to 2015," wrote one Twitter user in a photo meme, mocking the Panthers' previous records.
During Sunday's Super Bowl showdown, the rivalry ramped up even more, with Panthers fans certainly giving their Denver counterparts a run for their money:
... Of course, Panthers fans likely had a lot of rage to work with, considering the variety of memes and jokes stacked up against them across the internet:
Ouch. It's a good thing you Panthers fans have an arsenal of Broncos jokes at the ready — after tonight, you might need them, win or lose.