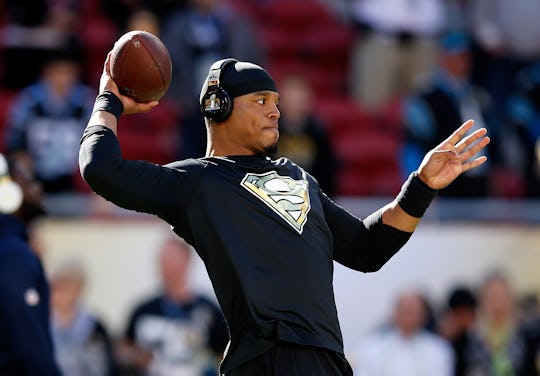 Ezra Shaw/GC Images/Getty Images
Super Bowl Memes If You Hate Football, Because The Commercials Really Are The Best Part
Football just isn't for everyone. I mean, sports, generally, just aren't for everyone. I don't really enjoy watching men slam their bodies into each other, knowing that they often do great damage to their brains and then are left to deal with the effects of that damage for the rest of their lives. But, further, there are so many damn rules to remember in football. I'm one of those people who can get into basketball, though, so I should get points there, right? Whatever. The best part of Super Bowl 50, for me, was the food, the commercials (as always), and the memes. Super Bowl memes for people who hate football are amazing, and they just generally get my struggle each year.
The most exciting part of Super Bowl 50, for me, was the fact that Beyoncé was headlining the Halftime Show alongside Coldplay. Talk about knowing how to rope in viewers who have no interest in sports — good on you, CBS. But, apparently, Sunday's game was a big deal because it was the first time in NFL history when "two No. 1 overall draft picks" started against each other in the Super Bowl, according to CBS Sports. The Broncos' Peyton Manning was a No. 1 pick in 1998, and the Panthers' Cam Newton was a No. 1 pick in 2011.
All of this sounds fancy, but I'm really just here for the guacamole and to critique the commercials that might degrade women. To each their own. Here are the best Super Bowl memes for people who hate football.
This guy is obviously a bit bitter that football haters actually have just as much fun watching the commercials and not watching the football.
Hockey is totally more exciting to watch.
There was no shortage of sass on Super Bowl 50 gameday, because not everyone loves football. But, most people do love food and advertiser's hilarious (and sometimes facepalm-worthy) attempts at convincing people to buy their stuff.