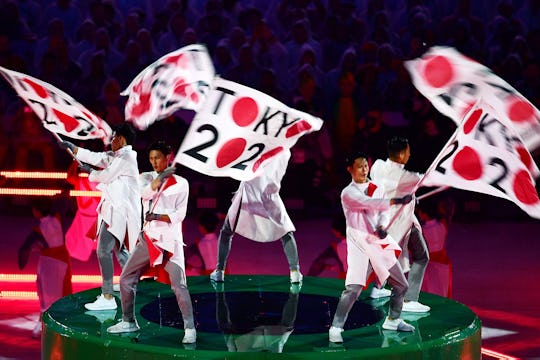 JIM WATSON/AFP/Getty Images
Super Mario Will Be At The Tokyo 2020 Olympics & People Are Beyond Excited
As Rio passed the torch to Tokyo, the host city of the 2020 Olympics, everyone watching the closing ceremony got a big treat. Prime Minister of Japan Shinzō Abe popped out of a green pipe wearing Mario's hat, introducing a Super Mario-themed segment. Yes, Super Mario will be at the Tokyo 2020 Olympics, and fans are seriously pumped.
The closing ceremony serves to help the world say goodbye to the Olympic host country while getting a taste of what's to come in four years, and Japan's segment did not disappoint. After Tokyo governor Yuriko Koike received the Olympic flag, a video gave viewers a look at Japan's plans for the 2020 Olympics, according to The Telegraph. After Super Mario explored Japan onscreen, he jumped into a green pipe. Out of a green pipe in the middle of Maracanã Stadium rose Abe, wearing Mario's signature hat. The dance number that followed incorporated a video game aesthetic and more references to the beloved digital plumber. Fans in Rio cheered, and Twitter erupted. For anyone who hoped Mario would make a cameo in four years, the closing ceremony offered an incredibly delightful preview.
Mario is a household name for video game fans around the world. Designer Shigeru Miyamoto created Donkey Kong and Mario, which was first called Jumpman according to IGN. The characters originated when Nintendo needed to reprogram a game called Radar Scope, a market failure that had initially been expected to rocket Nintendo to North American success. That last-ditch effort turned into a three-decade franchise encompassing more than 200 games featuring the overall-clad plumber. The Guardian noted that the original Super Mario Bros. game set a sales record with gamers buying more than 40 million copies.
Mario and his brother, Luigi, are two of the most beloved characters of all time; nearly everyone who's played a game on a Nintendo console probably met the pair at one time or another. The prospect of Mario playing a major role the 2020 Olympic Games is genuinely thrilling for fans who grew up playing Super Mario games. Not everyone can make it to Tokyo, but Tokyo did make viewers on all continents feel included by spotlighting Mario on the international stage. Now, anticipation is building about what to expect in four years.
Athletes may not earn gold medals in competitive gaming, but based on this year's closing ceremony, video game fans will feel right at home at the Olympics in Tokyo.