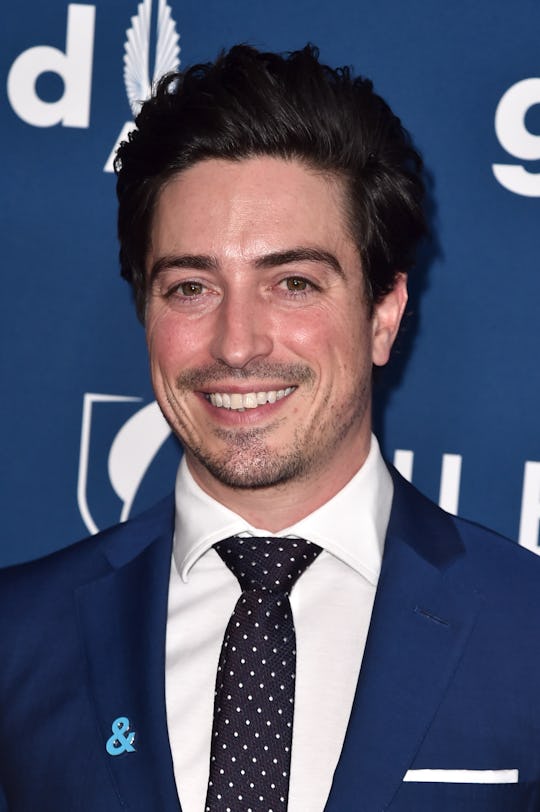 Alberto E. Rodriguez/Getty Images Entertainment/Getty Images
'Superstore's Ben Feldman & Wife Michelle Share Pregnancy News With Voting Photo
He plays a character on TV that doesn't seem to get too riled up about things, but Superstore's Ben Feldman and wife Michelle have announced they're expecting baby number two with a passionately patriotic reveal that's timed to correspond with the midterm elections. "It's an imperfect system," Feldman wrote on Instagram alongside a snap of him, wife Michelle Mulitz, and son Charlie Milton, 1, at their Los Angeles polling place, as People magazine reported.
"Registration should be automatic," Feldman continued. "Elections should be holidays. Districts shouldn't represent the ideas of the partisan hands that drew them. But it still makes me proud to be American. Send me your pictures from today & I'll post them."
Feldman's voting appeared to have been in the morning, judging by Charlie's pajamas in the adorable pic. Feldman's wife, Michelle, meanwhile, sports a "Voting for 2" shirt with two checkmarks in the voting box on the white shirt's logo. Super-cute. "We voted as a family because it's about the future of our children," Feldman, 38, told People. "New addition expected spring 2019!"
"Voted for the first time today ✌🏼," one fan promptly responded, while another chimed in, "Took our 5-month-old baby boy to vote with us as well and decided it will be a tradition! Proud to teach him about his future civic duty!"
Another user added, "As someone who is not able to vote (I'm a legal permanent resident)... Thank you for using your platform for good." Yet another fan was happy about Michelle's wardrobe, adding: "I absolutely love her shirt!!! That's such an important message!" Michelle's baby bump was a bit clearer in a separate photo the actor posted on his Instagram story.
Feldman, who many may know best from his onscreen pseudo-romantic camaraderie with Superstore co-star America Ferrara, didn't just get involved in politics; his social media shows he's volunteered for the progressive organization Swing Left, as well as voted in a number of past elections. "GET OUT THERE. KNOCK ON DOORS," he wrote earlier this week. "Don't worry about changing an opinion change a non voter into a VOTER."
The Feldmans, who welcomed their son in October 2017, according to Us Weekly, married in 2013. Feldman has previously starred in TV series like Silicon Valley and movies like Cloverfield, the outlet added. According to Hollywood website IndieWire, the Emmy-nominated actor directed his first episode of Superstore this spring, and is interested in life on the other side of the camera.
Feldman has also joked about working with a bigger star such as Ferrara, telling Entertainment Tonight earlier this year that "I'm just picturing America and Natalie Portman as dates to the Golden Globes. I was just thinking, 'She has a different life than us,'" Feldman cracked. "I don't go to the Golden Globes with Natalie Portman. I watch them in sweatpants, binge-eating at home."
And according to Feldman, the Superstore cast is, truly, one big happy family: "There's a weird synergy where everybody gels. It's rare; it almost never happens I think, where it's so unanimously cool, but it was for us right away," he told Observer in 2016 about the cast's genuine friendship. In fact, as E! News reported, Feldman and his cast-mates joined Ferrara's friends from her old show, Ugly Betty, to celebrate her baby shower in March.
I'm happy for this adorable family, and it's great to know that their new addition will be raised to take his or her civic duty seriously.