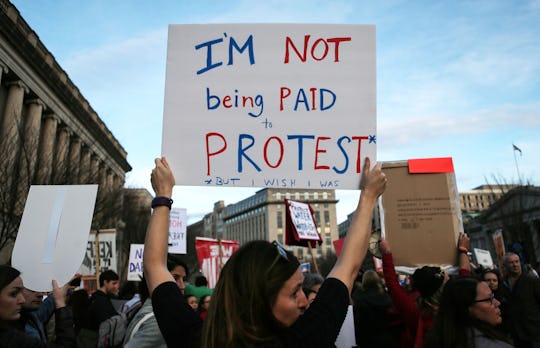 Mario Tama/Getty Images News/Getty Images
Support These Remaining Standing Rock Protests
The Standing Rock protest camp may be on its last legs, but the fight is far from over. There are still ways to support the Standing Rock protesters' last-ditch efforts to block the construction of the Dakota Access Pipeline and protect their drinking water and sacred land. Last week, North Dakota Gov. Doug Burgum ordered an emergency evacuation of the Oceti Sakowin protest camp, claiming that "accelerated snowmelt in the area" could lead to flooding. The order made no mention of the pipeline, but did twice refer to the area as federal land (the tribe disputes this), and ironically, cited a need to "protect the Missouri River" from the "ecological disaster" that might result in waste from the camp being washed away by floodwaters. Oil spills, presumably, are not a concern.
Protesters were ordered to leave the area by 2 p.m. local time (3 p.m. Eastern Time), and according to ABC News, the state will provide "water, snacks, a food voucher, a personal hygiene kit, a health and wellness assessment, hotel lodging for one night, a taxi voucher to the bus terminal and bus fare for a return trip home." That's nice and all, but I think they'd probably just settle for the water.
Many left the camp in the days leading up to the deadline, but some have vowed to stay put, even as law enforcement surrounded the camp, prepared to make arrests. The U.S. Army Corps of Engineers is set to take possession of the land following a push from President Donald Trump to complete construction of the pipeline, which he claimed will "serve the national interest." A May 2016 financial disclosure revealed that Trump held tens of thousands of dollars worth of stock in companies bankrolling the pipeline. A spokesperson claims that he's since sold his shares in Energy Transfer Partners, the majority stakeholder, but it's unclear whether he still holds millions of dollars of stock in Phillips 66, Citigroup, and Wells Fargo, according to the Washington Post. The Army granted the easement for the land on Feb. 7, without completing an environmental impact assessment or allowing public comment, just days after a similar pipeline in Iowa spilled 138,000 gallons of diesel fuel.
While the Standing Rock Sioux Tribe does not wish for protesters to remain at the Oceti Sakowin camp, there are other ways to show support. The tribe is still accepting donations, and a march on Washington is planned for March 10. If you're unable to donate or march, you can check this list of banks to make sure that you're not inadvertently bankrolling the pipeline, too. If your bank is invested, consider closing your account, and telling them why you're leaving. And as always, no matter what state you live in, contact your representative and your senators and ask them to stand with Standing Rock. This isn't just a Sioux issue or a North Dakota issue; everyone deserves access to clean water.