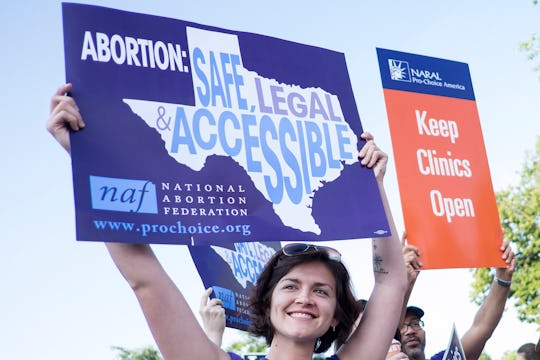 Pete Marovich/Getty Images News/Getty Images
Supreme Court Strikes Down Texas Abortion Restrictions & It's A Huge Moment For Women
On Monday, the Supreme Court was expected to announce its decisions for three major cases to wrap up this judicial season. The Supreme Court struck down Texas abortion restrictions in a vote of 5-3, in the case of Whole Woman's Health v. Hellerstedt, finding the Texas law called HB 2 placed an "undue burden" on abortion clinics in the state. H.B. 2, named the Texas Omnibus Abortion Bill, included requirements that abortion providers must have hospital-admitting privileges at a hospital no more than 30 miles from where the abortion is to be performed. The bill was signed into law by former Gov. Rick Perry in 2013.
After sections of the law took effect in Texas, it was immediately challenged in the courts, the case ultimately making its way to the Supreme Court. Many legal analysts considered this a landmark case, as the Hellerstedt decision had the potential to set precedent for women's access to care well into the future, even 43 years after Roe v. Wade. After the death of Justice Antonin Scalia in February, the potential for a split vote on the Supreme Court bench worried supporters on both sides of the argument, but the 5-3 ruling came out in clear favor for protecting women's rights and their access to healthcare.
Justice Stephen Breyer delivered the majority opinion for the court, with a concurring opinion issued by Justice Ruth Bader Ginsburg. Breyer noted that the fact that eight Texas abortion clinics closed in the wake of H.B. 2 demonstrated the devastating impact if the law were fully implemented. Breyer wrote:
The record contains sufficient evidence that the admitting-privileges requirement led to the closure of half of Texas' clinics, or thereabouts. Those closures meant fewer doctors, longer waiting times, and increased crowding.
Breyer went on to note that it was likely that quality of care would be much poorer for women at those few remaining operating facilities in compliance with H.B. 2. "Healthcare facilities and medical professionals are not fungible commodities," the justice wrote.
Ginsberg's concurring opinion noted the logical contradiction inherent in H.B. 2, stating that other medical procedures — such as childbirth — were not only more dangerous than abortion, but were not subject to the same ambulatory-surgical-center admitting privileges required of abortion providers in the state.
Justices Clarence Thomas and Samuel Alito each wrote dissenting opinions. Thomas stated that he believed the Court has ruled the right to an abortion as a "preferred" Constitutional right. Alito, in a very lengthy dissent, invoked a strange metaphor about abortion clinics as grocery stores and mini-marts, as well as the Kermit Gosnell case in Philadelphia from 2013.
Monday's SCOTUS ruling on the Texas abortion law has set an important precedent for all women in the United States, reaffirming a woman's right to get the healthcare she needs — without harmful laws like H.B. 2 getting in her way.