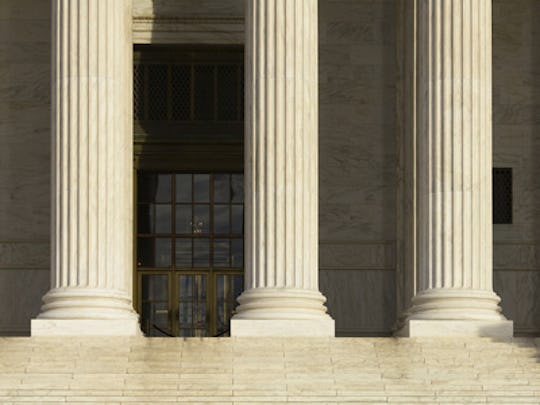 Fotolia
Supreme Court To Hear Texas Abortion Law Case, The First Of Its Kind To Be Heard In A Decade
According to The New York Times, on Friday the Supreme Court agreed to hear an abortion rights case — the first such case it will hear in almost a decade. (The last major abortion case was in 2007.) The case, Whole Woman's Health v. Cole, is expected to be heard shortly after the New Year and a ruling is expected before the end of the Court's current session (June 2016).
The most recent case seeks to challenge a Texas law which is slated to leave the state with about 10 abortion clinics, down from more than 40. Regardless of the outcome, this new case will affect millions of women and may be the first revision we see to the constitutional principles governing abortion rights.
Woman's Health v. Cole concerns a Texas law passed in 2013 which requires clinics providing abortion services to meet the same medical standards as ambulatory surgical centers. Additionally, under the law doctors providing abortion services at these clinics must have admitting privileges at nearby hospitals. As a result the number of clinics providing abortion services in the state dropped to 19 from 42 — and more may follow suit if the Supreme Court upholds the law.
Supporters of the law stated it was passed to protect patients. Sen. Kelly Hancock, one of the laws proponents, stated:
We wanted to make sure that not only those that were taking care of women's healthcare were qualified and had admitting privileges and that the facilities they were operating in had good, commonsense improvements.
But not everyone agrees. Opponents of the legislation say the bill has nothing to do with women's health and everything to do with the pro-life movement. As Dr. Bhavik Kumar of the Whole Women's Health Clinic in Ft. Worth explains:
The purpose of this bill is to shut down clinics so that there's fewer abortions taking place in Texas, and so women have less access to abortion care.
What's more, if this law is upheld opponents worry it will "delay or prevent thousands of women from obtaining abortions and lead some to resort to unsafe or illegal methods of ending an unwanted pregnancy," as the only remaining abortion clinics would be in Austin, Dallas-Fort Worth, Houston, and San Antonio. (A victory in Texas could also boost efforts to pass similar legislation in at least a dozen other states.)
The case could provide the Supreme Court with the chance to clarify its 1992 decision in Planned Parenthood v. Casey. During Planned Parenthood v. Casey the Supreme Court stated states may not place "undue burdens" on the constitutional right to abortion before fetal viability. The court determined the "burdens" would include "unnecessary health regulations that have the purpose or effect of presenting a substantial obstacle to a woman seeking an abortion."
This story is developing...