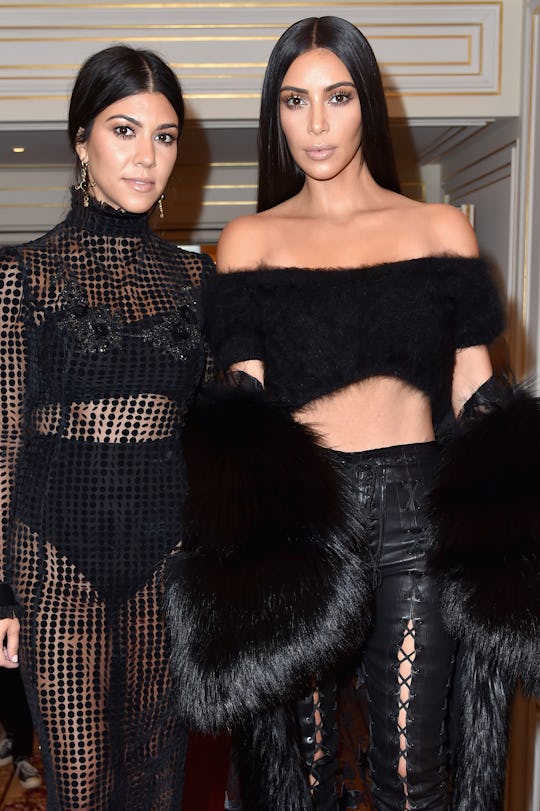 Pascal Le Segretain/Getty Images Entertainment/Getty Images
Surveillance Footage Of The Kim Kardashian Robbery May Help Authorities Identify Suspects
After two men allegedly held Kim Kardashian West at gunpoint in her hotel room in Paris, questions about their identities circulated widely in the media as authorities pursued suspects quietly. Though not much is known about the people involved in the incident, surveillance footage of the Kim Kardashian robbery may point police officers toward their suspects. Combined with a statement from Kardashian West, the footage may offer critically-important clues.
Kardashian West's spokesperson sent a statement in reply to Romper's request for comment:
Kim Kardashian West was held up at gunpoint inside her Paris hotel room this evening by two armed masked men dressed as police officers. She is badly shaken but physically unharmed.
Kardashian West traveled to France to participate in Paris Fashion Week events with members of her family, according to CNN. She was in her hotel room early Sunday morning when five men allegedly handcuffed the concierge and directed him to access Kardashian West's residence. Two men allegedly entered the apartment wearing garments suggesting that they were police officers, held the reality star at gunpoint, and locked her in the bathroom. The suspects allegedly stole about $10 million of Kardashian West's valuables, including a ring valued at about $4.5 million, NBC News reported. The French Interior Ministry also confirmed that two cell phones were taken from the residence, according to CNN.
One of the most essential pieces of evidence in the case may be surveillance video. In a report Monday morning, NBC News New York indicated that police collected footage taken both inside and outside of the building where Kardashian West was staying in Paris. Details of what is on the surveillance footage have not yet been released, but it is possible that video may have captured the suspects at some point leading up to or following the robbery; they reportedly fled the scene on bicycles. Kardashian West spent her time at Paris Fashion Week as a resident of Hôtel de Pourtalès, according to The Guardian. Nicknamed "No Address Hotel," the building is actually a mansion filled with luxury apartments often booked discreetly by celebrities and other wealthy travelers, People reported. Kardashian West's husband, Kanye West, has stayed there off and on since 2011, and Kardashian West had been a guest at least once before.
As the No Address Hotel robbery investigation began, Kardashian West provided authorities with a statement prior to returning to the United States, according to Entertainment Weekly. If officials were able to obtain surveillance footage of the suspect, combining what they've learned from the footage with Kardashian West's eyewitness testimony could lead them easily to the people they're looking for.