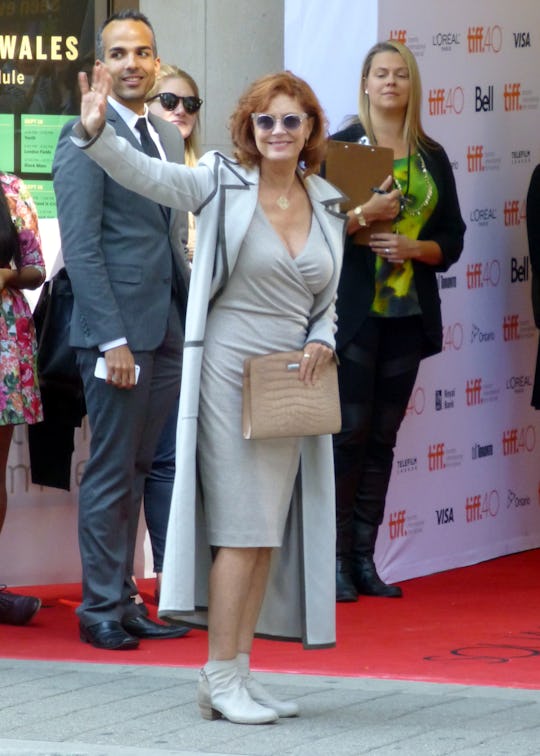 GabboT/Flickr
Susan Sarandon Is Aiding Syrian Refugees in Greece & She's Not The Only Celebrity Supporting The Cause
Actress Susan Sarandon is using her influence in an amazing way: Sarandon is in Greece, welcoming refugees fleeing from Syria. Since the civil war broke out in Syria in March 2011, around 9 million Syrians have had to escape to safety, with many choosing to undergo the long, dangerous voyage to Europe, arriving on the shores of Greece first. Though some don't want their country to accept refugees at all for political reasons (ahem, ahem), Sarandon is using her power as a celebrity to shed light on the more important issue — treating the refugees with compassion.
In a piece for The Huffington Post, Sarandon details how she's directly aided the cause — Sarandon talks about helping a little girl out of a boat, and out of her wet socks. And subsequently connecting with her, something all Americans should be open to doing. Clearly, Sarandon understands that the refugee crisis regarding Syrians isn't just about politics, it's about treating these refugees with dignity and respect. As she writes:
Who are these refugees? Where are they from? What led them here? Where will they go? I have come to hear their stories and learn.
The actress isn't the only one who has been vocal about the refugee crisis effecting millions of Syrians. Below is a roundup of other celebs who have been speaking out about helping refugees.
J.K. Rowling
In addition to tweeting her support, Rowling has also been retweeting posts in support of refugees.
Olivia Wilde
Wilde linked to actress Sophia Bush's tweet, which mentioned an article about how Icelanders want their government to accept more refugees.
Benedict Cumberbatch
The actor did the intro for a Save the Children video meant to raise money for refugees escaping to Europe. In the video, he says, "You have to understand that no one puts children in a boat unless the water is safer than the land. As people watching this tragedy unfold from the safety of our homes, with our safe children, we want to say that we see you. We hear you. And help is coming."
Cate Blanchett
Blanchett did a video for the UN Refugee agency in support of refugees, and in honor of a woman she met who escaped from Syria.
Colin Firth
Along with other actors, Firth signed a letter asking British Prime Minister David Cameron to offer safe haven to refugees. In the letter, the people who signed say they are ashamed Britain hasn't pledged resettlement places for Syrian refugees.
Kristin Davis
On Twitter, Davis linked to a story about a fatal accident that left 39 people dead, illustrating how desperate refugees' situations were.
Helena Christensen
Christensen, a supporter of the UN Refugee Agency, traveled to Colombia to meet a woman there who had been displaced from her home. She also took part in a video for the UN Refugee Agency called #WordsMatter meant to shed light on the refugee crisis. In it, she says, a migrant chooses to leave her country "often to find a better life," but the video goes on to contrast a migrant situation with that of a refugee's.
Craig Ferguson
In contrast to a migrant who "chooses to leave their country," Ferguson said in a video for the UN Refugee Agency that "a refugee is running for their life." He also said that they have the right "not to be immediately deported and sent right back into harms way."
Patrick Stewart
The actor used Twitter to inform his over 2 million followers about the many people who have been dying because of the Syrian conflict. He also took part in the aforementioned video, and said "We need to treat all human beings, refugee or migrant with respect and dignity."
The refugee crisis, particularly in Syria, has been going on for years now. It's nice to see that more celebs are actively trying to improve the situation and use their influence for a good cause.
Images: GabboT/Flickr