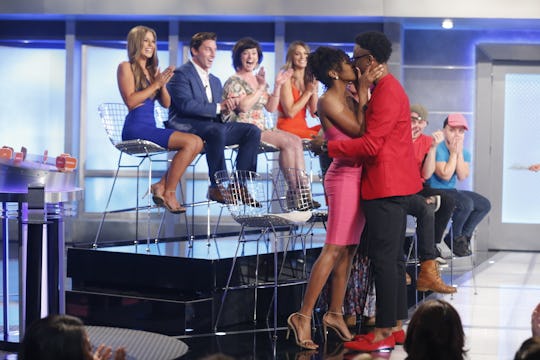 Courtesy of CBS
It's Official: 'Big Brother' Houseguests Swaggy C & Bayleigh Are Engaged!
In the words of Julie Chen: it's official, the showmance between Swaggy C and Bayleigh on Season 20 of Big Brother is now a romance. How do we know? Because on the finale episode, which aired live on Wednesday, Sept. 26, Swaggy C put a ring on it! That's right, Swaggy C proposed to Bayleigh on the Big Brother finale and, more importantly, she said YES. The big moment happened shortly before the winner of Season 20 was crowned on live television, when Swaggy C and Bayleigh were reunited on stage for the first time since his eviction on Day 23 inside the Big Brother house.
Now, here's where things get pretty interesting: Swaggy C, whose real name is Christopher Williams, and Bayleigh Dayton, had only spent a grand total of 23 days together before he dropped to one knee. To add to that, it had been approximately two months or so since Swaggy and Bayleigh last saw each other. Why so long? Because Bayleigh lasted much longer in the Big Brother house, landing her a spot on the Season 20 jury panel. Even though she, too, was eventually evicted, Bayleigh was immediately transferred to the Big Brother jury house where she wasn't allowed any contact with the outside world — including Swaggy C, as Gold Derby reported in August 2018.
While they may not have known each other very long, Big Brother fans took to Twitter to share their excitement and congrats to the happy Season 20 couple. Warning: Big Brother Season 20 finale spoilers ahead!
However, it's worth noting that not all Big Brother fans were thrilled about Swaggy's impromptu proposal. Unfortunately for Swaggy, lots of fans saw it as nothing more than trying to steal the Season 20 finale attention for himself. Plus, quite a few fans took to Twitter to express how upset they were that Big Brother's host, Julie Chen, was rushing the houseguests through their final speeches only for Swaggy to take as much time as he pleased to stage a live proposal.
No matter what fans are saying about Swaggy and Bayleigh's relationship, love seemed to be in the air for Big Brother Season 20. Sure, Swaggy and Bayleigh were the first "showmance" to take center stage on the reality show, as reported by Bustle, but they weren't the only couple to go the distance. After Swaggy C and Bayleigh came Haleigh and Fessy, another couple later separated by eviction. The wait for a reunion wasn't as long for Haleigh and Fessy as it was Swaggy and Bayleigh though, because both houseguests ended up in the jury house.
Last but certainly not least, how could we forget Tyler and Angela's intense showmance? As the season came to an end and houseguests were dropping like flies, Angela decided to tell Tyler that she was falling in love with him, as reported by Us Weekly. Oh, plus there was that awesome surprise engagement on Season 20 between Big Brother Season 18 winner, Nicole, and her longtime boyfriend, Victor. Like I said, love was definitely in the air!