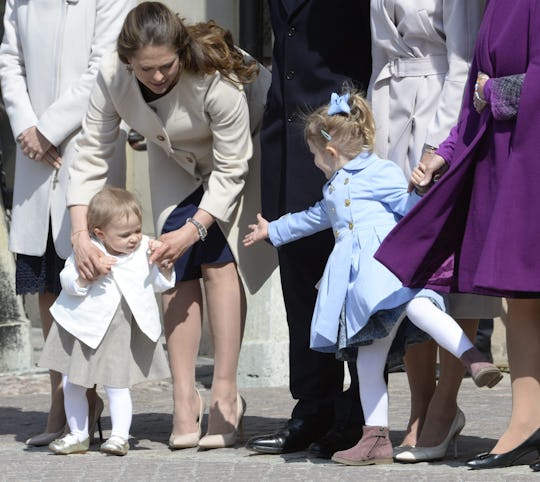 JONAS EKSTROMER/AFP/Getty Images
Swedish Princesses Estelle & Leonore Are The Cutest Things You'll See All Week
Move over, Elsa and Anna — there's two new adorable Nordic princesses in town. When the Swedish royal family came together in Stockholm for Prince Oscar's christening, girl pal cousins Princess Estelle, 4, and Princess Leonore, 2, were reunited. And, like all parents of toddlers can attest, the girls were far more interested in hanging out with each other than they were in the day's proceedings. Luckily, Princess Madeleine shared a few shots of Princesses Estelle and Leonore cuddling, which might just be the cutest pictures you see this Sunday.
Now, I'm not normally one to keep up with royal family news, but royal children are the bomb. They might be heirs to thrones and all, but at heart, they're still children, so they do what they want (all while looking pint-sized and adorable, of course).
During Prince Oscar's christening, which took place Friday, Princess Leonore poked at a guest's face, 11-month-old Prince Nicolas played with a light-up toothbrush (hey, you can buy a kid all the toys in the world, but the heart wants what it wants), and Princess Estelle chimed in during media interviews. However, the most heart-warming moment of the whole day was definitely Princesses Leonore and Estelle's cuddle party and catchup. I mean, just look at them:
Princess Madeleine shared the picture of her daughter and niece on Sunday, to coincide with Swedish Mother's Day, and captioned the shots, "My sister and I are blessed as mothers of these two sweet little girls who adore each other!" I'm sure the grown-up princesses are also proud to have two little ones that keep life interesting, especially when it comes to christenings and other similarly lengthy family events.
Last year, Princess Leonore took advantage of Prince Nicolas' christening to launch an impromptu dance show for the assembled audience while the choir sang:
Meanwhile, this year, Princess Estelle seemed to think the proceedings went a little long, taking a break to rest on her father's hand. I think everyone can commiserate with the expression on Princess Estelle's face here:
The two adorable cousins have an age difference of just under two years, so I have a feeling they'll be friends for a long time to come. They'll likely have a chance to be reunited again soon: their cousin, Prince Alexander, was born in April and will likely have his christening later this year. Maybe Princess Leonore will break out the moves again at the next gathering — but as long as she and Estelle share some more snuggles, I think royal family fans will be content either way.