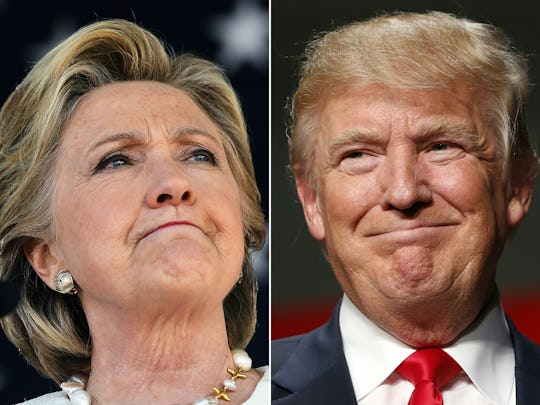 JEWEL SAMAD/AFP/Getty Images
Swing State Polls The Day Before The Election Show The Race Is Incredibly Close
With only one day left before the 2016 Presidential Election, it seems as though the entire country is on edge about what might happen once all the votes have been counted tomorrow night. The race has been a nail-biter seemingly from the beginning, as both Republicans and Democrats have either pushed hard for their party's candidate, or struggled with who they wanted to vote for in what has become one of the most high-stakes — and controversial — elections to date. At this point, the most important issue on many voters' minds is what might happen in the undecided swing states. And swing state polls the day before the election are showing that the race is still incredibly (and perhaps uncomfortably) close.
According to FiveThirtyEight.com, the most recent set of national polls show Democrat presidential nominee Hillary Clinton leading by an average of 2 to 3 points over Republican presidential nominee Donald Trump. Not only does that suggest that Trump still has a very good chance of winning, but it also suggests that he was able to narrow the previous polling gap between the two candidates in the wake of FBI Director James Comey's recent announcement that the agency was investigating a new collection of emails linked Clinton (Comey has since said that the FBI has once again cleared Clinton of any criminal wrongdoing, according to The Guardian).
When it comes to swing state polls specifically, Clinton again seems to be leading overall, but with such a narrow margin that it's impossible to say for certain what the outcome will be. FiveThirtyEight.com projects that New Hampshire will be the tipping point state in the election, and currently predictions say that Clinton is leading only by 1.7 percentage points. In other swing states, like Florida, Mic has reported that the two candidates are in a virtual tie, if the polls are accurate. In Ohio, Trump is favored to win, though he is currently thought to lead Clinton by only 2 points. Trump also has a very slight lead in North Carolina, but again, at 47.8 percent to Clinton's 46 percent, it's still pretty much a toss-up.
Both Mic and The New York Times are projecting an overall win for Clinton on Tuesday, though it's uncertain how wide the margin between the two candidates will be when all is said and done. According to The New York Post, Trump's campaign is expecting to take Iowa, and is working hard to flip traditionally-blue states like Michigan, Pennsylvania, and Wisconsin in his favor as well. Clinton has also been pushing for Michigan, and in an appearance on ABC's This Week Sunday, Clinton campaign chairman John Podesta said he felt confident that if Clinton can hold on to Michigan and also the swing state of Nevada, they'll "have this race over," according to The New York Post.
But FiveThirtyEight.com's Nate Silver wasn't quite as optimistic. According to ABC News, Silver told This Week that Clinton's lead doesn't seem to be enough to assume a victory is inevitable:
The electoral math is less solid for Clinton than it was for [President Barack] Obama four years ago. You'd rather be in [Clinton's] shoes than Donald Trump's but it's not an incredibly safe position.
Silver also noted how easily the outcome could still turn in Trump's favor:
If Clinton were to beat her polls by three points and you see something we call a borderline landslide, but if it goes the other way, and all of a sudden Trump could very easily win the Electoral College.
But according to The Independent, a Clinton victory might be much more likely than the polls would have voters believe. Arguing that "public polling is outdated, and frequently wrong," The Independent suggested that a better indicator for a predicted outcome is the Electoral College results from the last four elections. And that definitely puts Clinton in the lead:
If Clinton wins all the states that the Democratic Party historically wins, then she only needs to win Florida, or Ohio, or Virginia. Any one of these states will give her enough Electoral College votes to put her above the required 270. Similarly, if Clinton wins both Colorado and Nevada, then she will win. In other words, Clinton does not need to win Florida or Ohio.
On the other hand, Trump needs to win every traditional Republican state, as well as Florida, Ohio, and Virginia, plus one other. If Trump does not at least all three of the big swing states, then he has no mathematical chance at winning a majority in the Electoral College. Not only must Trump win every state that Mitt Romney, John McCain and George W. Bush won before him, but he must win states that they were not able to win.
That analysis might be good news or bad depending on which candidate you are supporting, but, just like every other projection, it's ultimately meaningless when it comes to the actual outcome. Until the votes are in and counted, and a winner is announced, nobody can say with any true certainly who will emerge victorious on Nov. 8 — and so we'll all just have to wait and see.