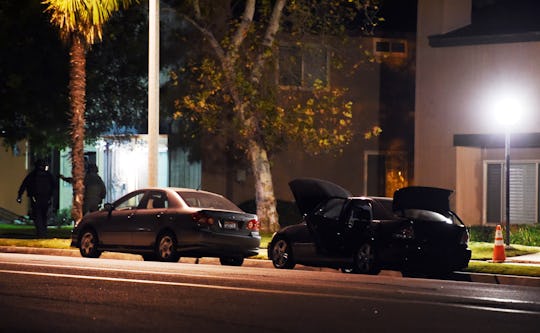 Syed Farook's Reported Dating Profile Reveals San Bernardino Shooting Suspect Valued Religion
Following the murder of 14 people at San Bernardino's Inland Regional Center Friday, there was mass confusion as to why anyone would open fire at the facility for people with developmental disabilities. But less than 24 hours later, we have some more information about the identity of the suspected shooters. And many people are zeroing in on 28-year-old suspect Syed Farook's dating profile online, which gives us a small look at who the now-deceased suspect was.
Farook, who was killed during a shoot-out with police alongside Tashfeen Malik — who is believed to be Farook's wife — reportedly created a profile several years ago on the dating site imilap.com. According the suspect's description of himself, Farook was a "22 Year Old Muslim Male" when he created the profile, who "religos [sic]" and enjoys "working on vitange and modern cars, read religios [sic] books, enjoy eating out sometimes." (It should be noted, however, that there is no indication yet from authorities that the shooting was religiously motivated.)
The profile also mentions Farook's alleged proclivity for "doing target practice with younger sister and friends."
Still, details about Farook continue to roll in. Other things we know about the suspected shooter? The suspect has a 6-month-old child, who was given to Farook's grandmother prior to the shooting, and Farook worked as an environmental health specialist at the San Bernardino County Health Department. The Los Angeles Times also reports he had recently traveled to Saudi Arabia, and, there, had met his new wife. (It is still unconfirmed whether Malik is that wife.) Farhan Khan, his brother-in-law, showed he was just as confused as to why Farook would allegedly open fire at the Center as everyone else was when he spoke to press:
I have no idea why he would he do something like this. I have absolutely no idea. I am in shock myself.
Those who knew Farook were surprised as well, with two co-workers telling the Times he was "quiet and polite."
And no matter what information we might get about the suspect's personal life, there is that one thing still missing: the motive. Though reports indicate that Farook had angrily left a holiday party he was attending at the facility shortly before the shooting, the organization of the shooting seems very unlike a crime of passion.
Seems it will be quite some time before we have all the answers.
Image: Robin Beck/Getty