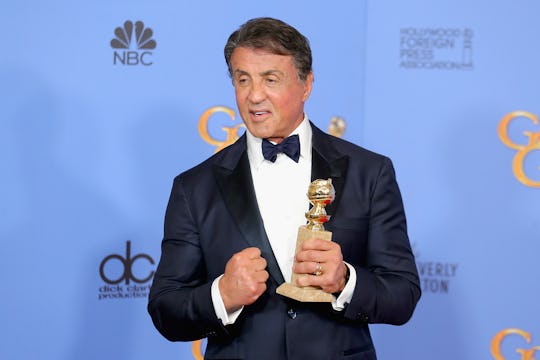 Sylvester Stallone Gets A Standing Ovation At Golden Globes & It Shouldn't Surprise Anyone
The loudest moment of Sunday night was surely Sylvester Stallone's standing ovation at the Golden Globes after he snagged the Best Supporting Actor award for his performance in Creed, a spin-off of his iconic Rocky films. The veteran actor has received decades' worth of love for his portrayal of Rocky Balboa in seven — yes, that's seven — Rocky films. He has many friends and fans amongst his Hollywood colleagues, and the love for him was obvious when his win immediately caused celebrities gathered at the Beverly Hilton Hotel to rise in an enthusiastic ovation.
Stallone's acceptance speech gave several clues about why the actor, who is also a writer or co-writer for many of his films, is so popular. For one, he thanked his wife and three daughters in the sweetest way possible. "Having your love is the greatest reward in the world. Every day," he said, and it was clear that he totally meant it. The guy's modest, too. He thanked the producers of Rocky because they "gave a chance on a mumbling actor, and gave me the shot of a lifetime."
As though being sweet and humble weren't enough, Stallone threw in a little quirky humor, too, just for good measure. "And most of all, I want to thank my imaginary friend, Rocky Balboa, for being the best friend I ever had," Stallone told his adoring audience at the Globes. A little weird, but cute, right?
Stallone has been raking in success after success in Hollywood since the '70s, and after Sunday's win, it's clear that The Champ will keep on surprising us.
Image: Mark Davis/Getty Images Entertainment