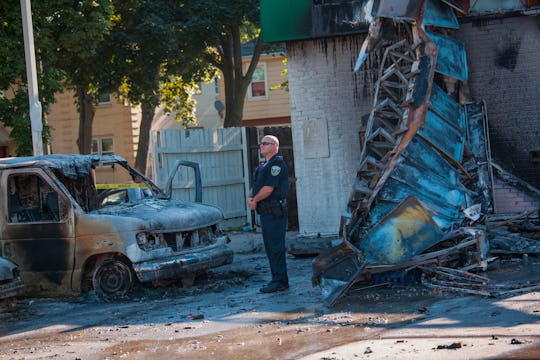 Darren Hauck/Getty Images News/Getty Images
Sylville Smith's Father Says Guns Are Part Of The Problem In Milwaukee & He's Got A Point
After Sylville Smith, 23, was shot and killed by police in Milwaukee on Saturday, hundreds of people took to the streets to protest his death. In a city plagued by racial tension and ongoing problems, the violent backlash from protestors was hardly surprising. While he didn't clear police officers of blame for his son's death (far from it), Sylville Smith's father said guns are an issue in Milwaukee and urged Milwaukee youth to stop "giving them a reason to kill us."
"When they even OK'd them pistols and they OK'd a reason to kill us too. Now somebody got killed reaching for his wallet, but now they can say he got a gun on him and they reached for it. And that's justifiable," Patrick Smith told FOX6 on Sunday, making it clear that he acknowledged the issues of racial inequality that come into play in police shootings. "They targeting us, but we know about it, so there's no reason to keep saying it's their fault. You play a part in it."
He continued:
If you know there's a reason, don't give in to the hand, don't be going around with big guns, don't be going around shooting each other and letting them shoot y'all, cause that's just what they're doing and they're out to destroy us and we're falling for it.
Smith isn't wrong: Gun use is a problem in Milwaukee, which just last year experienced its highest amount of homicides since 1993, over 80 percent of them firearm-related. (The rate of firearm-caused injuries is even higher, with up to seven times more injuries than actual deaths.) Milwaukee, with only 10 percent of Wisconsin's population, is also home to two-thirds of the state's gun homicides.
"We have the worst gun laws I've ever worked under," Milwaukee police chief Ed Flynn told WISN last year, blaming gun violence on the ease with which criminals can access firearms. He repeated his call for stricter gun regulation in July, saying, "Help us do something about guns."
In June 2016, according to FOX6, there had already been 41 fatal shootings, 221 non-fatal shootings, and over 1,000 illegal guns removed from the public in Milwaukee since January. In a city with high levels of gun crime, police do have to deal with gun crime and split-second reactions to fleeing, armed suspects. That's simply a reality, and it's not a position I would envy anyone.
"When we allowed them to say guns is good and it's legal, we can bear arms. This is not the wild, wild west, y'all. But when you go down to 25th and center, you see guys with guns hanging out this long, that's ridiculous," Smith told FOX6. "I feel like they should have never OK'd guns in Wisconsin."
Milwaukee has its fair share of problems unrelated to firearms — but Smith has an incredibly valid point. Before we see a change in gun and police violence in the United States, we'll first need to see a change in gun regulation across the country.