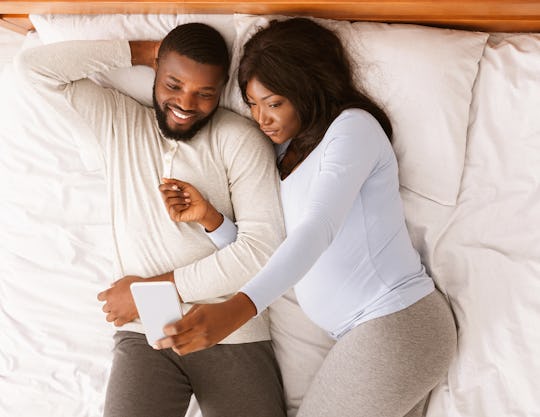 Shutterstock
Here's How To Take Your Own Beautiful Maternity Photos — No Fancy Camera Required
One of the most special ways to commemorate your pregnancy is to get maternity photos taken. These beautiful images highlighting your belly and your happy pregnancy "glow" (or not-so-glow) can be shared for years to come, and will always remind you of the time you spent waiting for your babe. But taking your own maternity photos might be a skill to learn if hiring a professional photographer isn't an option or if your planned shoot is cancelled for some reason.
You may not be able to shoot and edit the way a professional photographer can, but that doesn't mean you can't take your own gorgeous photos — and you don't need a pricey camera to do it. New York-based professional photographer Lauren O'Brien (who also took her own maternity photos) tells Romper, "Thankfully, entry-level DSLR cameras have become less expensive over the years and have allowed hobbyist or novice photographers better access to high quality images. In this new age of technology, even smaller, compact cameras tend to be inexpensive and yield high quality, high resolution photos." And hello, don't forget that great camera on your new iPhone.
Plus, as the years go by, the only important thing about these photos is the memories they conjure up, not how perfect they look — so, basically, it's not a big deal if they'll never hang in an art gallery. Maternity photos should make you feel good and highlight the positive sides of pregnancy.
So relax your expectations a bit and get ready to have fun with your photos instead of putting so much pressure on yourself. Here are a few tips on how to take your own maternity photos when you can't get them done professionally:
This article was originally published on