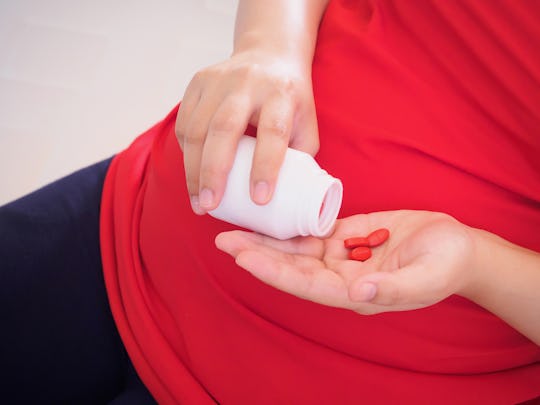 Taking Acetaminophen Too Much During Pregnancy Could Affect A Baby's Development
Ask any doctor, and they will tell you that some medications are off-limits during pregnancy. Previous scientific evidence has shown that certain drugs, whether over-the-counter or prescribed, can have an adverse impact on fetal development if taken too often or at high doses. And it seems this wisdom now applies to pain relievers available at your local pharmacy: New research released this week suggests that taking acetaminophen during pregnancy could have negative effects on your child's language skills. But don't worry just yet.
A new study published Wednesday in the journal European Psychiatry has found that using acetaminophen — the active ingredient in Tylenol and other over-the-counter pain relievers — can lead to language delays in babies, according to ConsumerAffairs. In particular, researchers from Mount Sinai discovered that girls, but not boys, born to mothers who used acetaminophen frequently during pregnancy demonstrated language problems at 2 years old.
Dr. Shanna Swan, the study's lead author and a researcher at the Icahn School of Medicine at Mount Sinai, said in a news release,
Given the prevalence of prenatal acetaminophen use and the importance of language development, our findings, if replicated, suggest that pregnant women should limit their use of this analgesic during pregnancy.
For the study, Mount Sinai researchers interviewed 754 pregnant Swedish women about their acetaminophen use and analyzed the concentration of the ingredient in urine samples they provided as part of their participation, according to TIME. Two years later, the researchers revisited the women, comparing their acetaminophen use with their children's scores on a language-development test given to all Swedish kids when they turn 30 months.
What the scientists discovered is that girls born to moms who used acetaminophen often during pregnancy — more than six times since conception — were nearly six times more likely to have language issues than girls whose mothers didn't take the drug, TIME reported. Researchers considered kids who said fewer than 50 words at 2 years old to have language problems; about 10 percent of children in the study showed a delay overall, according to TIME.
Swan said, according to the news release,
It's important for us to look at language development because it has shown to be predictive of other neurodevelopmental problems in children.
Acetaminophen use is common during the early months of pregnancy. In fact, Mount Sinai researchers found that 59 percent of study participants reported taking medication with the ingredient at least once during their first trimester, according to TIME. That's because, as the Cleveland Clinic noted, acetaminophen is considered safer than other medications on the market that pregnant women can use to treat fever, and aches and pain.
In response to the Mount Sinai study, Carol Goodrich, a spokesperson for Johnson & Johnson, the makers of Tylenol, an acetaminophen, told ConsumerAffairs in an email,
We are not aware of any studies that demonstrate a causal link between acetaminophen use during pregnancy and adverse effects on child development.
Contrary to Goodrich's claim, there have been other studies that have linked acetaminophen use during pregnancy to negative developmental effects. Previous research has associated frequent acetaminophen use with higher rates of ADHD, TIME reported. Another study found that taking the medication can also increase the risk of childhood asthma, according to Fit Pregnancy.
But, the truth is, the benefits of acetaminophen use far outweigh the risks. That's why it's important to note that these findings likely do not apply to occasional use of over-the-counter pain and fever relievers containing acetaminophen, which, in the case of the Mount Sinai study, would be considered less than six times during pregnancy. Pregnant people should minimize their use of acetaminophen; however, untreated fevers have also been linked to an increased risk of birth defects, according to CNN, so you shouldn't disregard OTC pain relievers all together.
In the interest of caution, then make sure to speak to your doctor if you're pregnant and worried about having taken painkillers with acetaminophen.
Check out Romper's new video series, Romper's Doula Diaries:
Watch full episodes of Romper's Doula Diaries on Facebook Watch.