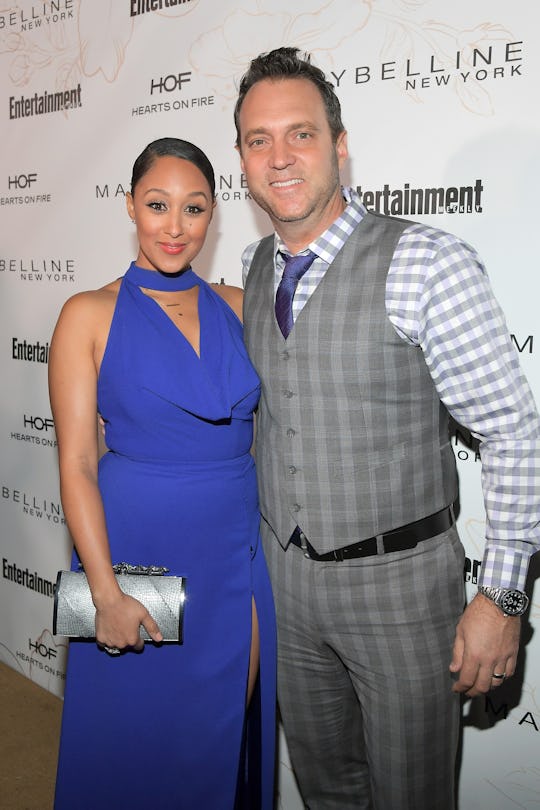 Charley Gallay/Getty Images Entertainment/Getty Images
Tamera Mowry Confirms Her Niece Is A Victim Of The Thousand Oaks Shooting
Shortly after the mass shooting at the Borderline Bar & Grill in Thousand Oaks, California early Thursday morning, former Fox News correspondent Adam Housley took to Twitter to announce his niece was among the missing and asked for any information to help locate her. Unfortunately, Housley and his wife, The Real co-host Tamera Mowry, confirmed their niece's tragic death in a statement to The Hollywood Reporter Thursday afternoon.
Just hours after a gunman entered the Borderline Bar & Grill with a legally purchased Glock 21 .45 caliber handgun and allegedly started shooting into the crowd, according to NBC News, Housley penned a desperate plea on Twitter. "Please pray if you believe....pray," he wrote.
Housley's call for prayer was about his 18-year-old niece and Pepperdine University freshman, Alaina Housley. Alaina was one of the many students from Pepperdine and California Lutheran University who attended the bar's popular "college night," according to The Sacramento Bee.
Sadly, Housley and Mowry later learned that Alaina was one of the 12 people to lose their lives during the shooting.
"Our hearts are broken," the couple told THR in a joint statement. "We just learned that our niece Alaina was one of the victims of last night's shooting at Borderline bar in Thousand Oaks. Alaina was an incredible young woman with so much life ahead of her and we are devastated that her life was cut short in this manner. We thank everyone for your prayers and ask for privacy at this time."
Tia Mowry, the twin sister of Mowry, took to Instagram before the news broke to express hope for Alaina's safety.
"Alaina Housely we are praying. We love u!" she captioned a group shot featuring Alaina. "If you know anything or any information please let us know. We love you! #borderline."
The Real's Twitter account also released a statement, noting that Thursday's episode was pre-recorded. "Today's episode was filmed yesterday," the account noted. "We are sending all of our love and prayers to Tamera, Adam and their family."
In a series of tweets Thursday morning, Los Angeles Times reporter Andrea Castillo shed some additional light into the events leading up to Alaina's death. She wrote, "@adamhousley arrived at the hospital searching for his niece Alaina. A guard didn't let him through, saying it was on lockdown. He said Alaina, a Pepperdine freshman, was at the bar with several friends. Her Apple Watch and iPhone still showed her location on the dance floor."
Castillo went on to report that Alaina's suite mates — who she was at the bar with — jumped through a broken window to flee the gunman. It's not exactly clear when the group lost track of Alaina.
"Housley said two of Alaina's suite mates jumped through a broken window to escape and are at a hospital with major glass wounds," Castillo said. "As they ran away from the bar, someone screamed 'Hey! Get the [sic] down on the ground.' They told Housley they believe it was the gunman."
It goes without saying that this is a difficult time for Mowry, Housley, and all of the other families who lost loved ones in the shooting. And as the couple outlined in their heartbreaking statement, it's best to give them privacy during this time.