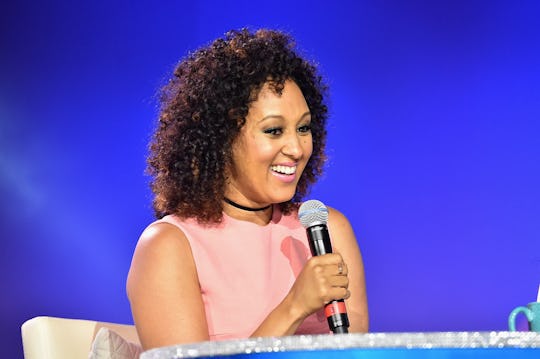 Paras Griffin/Getty Images Entertainment/Getty Images
The Parent Struggle Tamera Mowry Doesn't Want You To Feel Bad About
For parents, there's nothing more exciting than seeing your child reach a major milestone. But it's also easy to feel pressured and ashamed when your child hasn't mastered a skill by the book-told age. When your kid finishes potty-training, for instance, it might feel discouraging if he or she still wets the bed while sleeping. Turns out, however, that a lot of parents are in the same boat as you, including Sister-Sister alum and The Real host Tamera Mowry, whose son struggled with bedwetting even after he was potty-trained.
Once potty-training is over, some parents might assume they won't have to worry about accidents at night. This, Mowry would later learn, is rarely the case. As her son Aden, started using the toilet during the day, the mom of two initially thought her son would be automatically potty-trained at night.
"When he started wetting the bed, I started freaking out as a parent," Mowry tells Romper during an event for Goodnites Nighttime Underwear. "I thought maybe, I wasn't communicating properly to him, and maybe there was something wrong with my son."
It was when Mowry teamed up with GoodNites Nighttime Underwear that she realized some children, like Aden, need more time to stay dry at night, and that's completely normal. Bedwetting is actually more common than most parents think. According to the National Kidney Foundation, approximately five to seven million children continue to wet bed past the age of 6. It's simply part of a child's physical growth and, according to GoodNites, bedwetting happens because the child hasn't fully developed their bladder control.
"Dryness at night naturally evolves as your child gets older, and once I learned that, the unnecessary stress, the frustration, the confusion, all subsided," Mowry says. "Then all that energy was passed on over to my son, and he realized 'OK–mommy and daddy are OK, they're not freaking out, so I'm not gonna freak out.'"
Before her partnership, Mowry shied away from sharing her experiences because of the stereotypes about children who wet the bed — that they do it on purpose or that they're lazy. In reality, urination for toddlers and young children is involuntary, according to eMedicineHealth. In other words, children can't control bedwetting and they're not to blame for their soggy bedsheets. They'll often feel embarrassed for wetting the bed. "The saddest thing is when you see your son wake up and he wet the bed, my son literally had this pattern and he would say, "Ah man, oh no,'" she says. "So I could see that he wasn't doing it obviously purposefully, he was trying to stay dry."
By telling her story, Mowry wants to let other struggling parents know that they're not alone, and that their children just needs their support. "Everyone thinks a child should be fully potty trained at a certain age and that's not true," she says. "Parents should just relax and know that eventually your child will be dry at night–they will just have to grow out of it, in most cases that's how it is."
As for Aden, he has since become a pro with using the toilet. Not only is he protected at night, but he's feeling a lot more confident during the day.
"The nighttime underwear doesn't feel like a diaper, so he feels like he's in a little bit more in control when he does have to use the bathroom," she says. "It's just so cute to see them pull down their underwear when they have to say 'Oh I have to potty,' and you see them pull it back up–he just feels accomplished."
If there's a parenting milestone that really matters, it's about making the right decisions for your child. Mowry recalls a heart-warming moment when her caretaker asked Aden what his mom is good at. His answer: Making good choices.
"That made me realize that my son is watching every move that I make and I always tell him, 'Aden, make good choices,'" Mowry says. "So when he saw that his mom was actively making good choices, that made me feel good."
In spite of all the parenting expectations that still exist, there's no perfect parent, parenting style, or child. Every child develops differently, so never beat yourself up when your kid hasn't reached a particular milestone because he or she will eventually get there. Deciding what's right for your child is what's most important, which is something that Mowry can attest to.