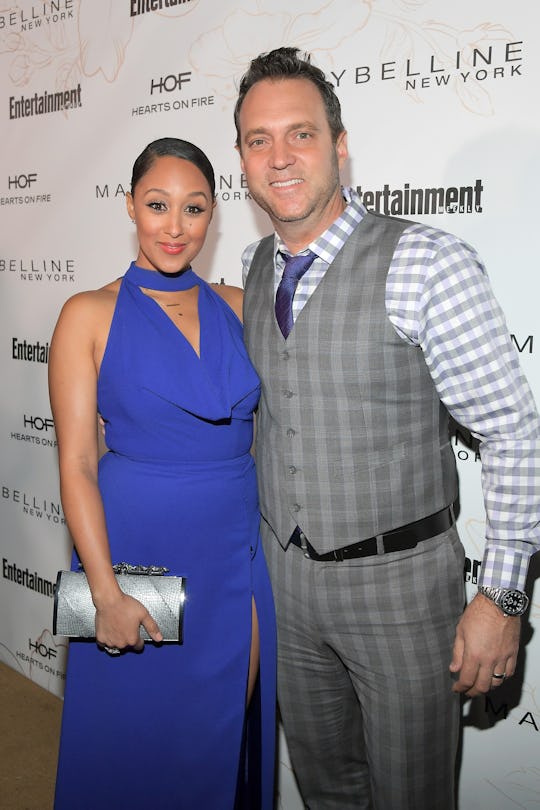 Charley Gallay/Getty Images Entertainment/Getty Images
Tamera Mowry-Housley Honors Her Niece In A Touching Birthday Tribute To Her Son
During the early hours of Thursday, Nov. 8, a gunman opened fire inside Borderline Bar & Grill in Thousand Oaks, California. Twelve innocent lives were taken that night — including the life of Alaina Housley, 18, a freshman at Pepperdine University. As it turns out, Alaina was the niece of Adam Housley and Tamera Mowry-Housley, who were understandably devastated by the tragic loss. Now — less than a week after the mass shooting that claimed Alaina's life — Tamera Mowry-Housley honored her niece in this touching birthday tribute to her son.
On Monday, the actress took to Instagram to wish her son, Aden, a happy birthday. In doing so, the bereaved aunt also made sure to include Alaina — who should have been there to celebrate with them. "Happy 6th birthday Aden!" Mowry-Housley wrote, alongside a photo of Alaina and Aden smiling together, according to E! Online. "Alaina was excited to come to your birthday party. But as you said buddy, 'She lives in your heart now.' We love you.💙" Mowry-Housley's Instagram followers were clearly both saddened and deeply touched by her moving tribute. One follower wrote, "Happy Birthday Aden. So special how we can keep those we love close in our hearts. That way we never lose them. May God comfort your family now and in the days ahead."
Another Instagram user commented, "Happy Birthday Aden. Yes, your beautiful Angel Alaina lives in your Heart Forever 🙏🏽♥️🎂."
Yet another person chimed in with, "Happy Birthday buddy. May God Bless you with many more happy and healthy years ahead. Your cousin is now a beautiful Angel who will always be watching over you and in your heart. My heart breaks for you guys. 🙏🎂🎉."
As People reported, Mowry-Housley's husband took to Twitter not long after the Thousand Oaks shooting, desperately seeking any information about Alaina — who was among those missing in the aftermath of the attack. Housley also tweeted, "Please pray if you believe....pray."
Their worst fears were soon realized; Mowry-Housley confirmed their niece's death in a statement to The Hollywood Reporter on Thursday afternoon. "Our hearts are broken," the couple said in a joint statement. "We just learned that our niece Alaina was one of the victims of last night's shooting at Borderline bar in Thousand Oaks. Alaina was an incredible young woman with so much life ahead of her and we are devastated that her life was cut short in this manner. We thank everyone for your prayers and ask for privacy at this time."
Later that same day, The Real co-host went on to pen a heartbreaking message via Instagram — with a recent photo of her beautiful niece who was taken too soon — Us Weekly reported. "Alaina. My sweet, sweet Alaina. My heart breaks. I'm still in disbelief," Mowry-Housley wrote. "It's not fair how you were taken and how soon you were taken from us." She continued:
I was blessed to know you ever since you were 5. You stole my heart. I will miss our inside jokes, us serenading at the piano. Thank you for being patient with me learning how to braid your hair, and I will never forget our duet singing the national anthem at Napa's soccer game. I love you. I love you. I love you. You are gonna make one gorgeous angel. My heart and prayers are with every victim of this tragedy.
It's difficult to imagine what families of the Thousand Oaks shooting victims have gone through — and will continue to go through for a lifetime — in the wake of yet another mass shooting in the U.S. As much as Alaina's tragic death still weighs on Mowry-Housley's mind, I would imagine that penning a typical "happy birthday" Instagram post for her son felt incredibly out of place. The way she managed to honor both her son and her niece today was simultaneously heartbreaking and sweet. My thoughts are with Alaina's family as they continue to mourn her senseless, much-too-soon loss.