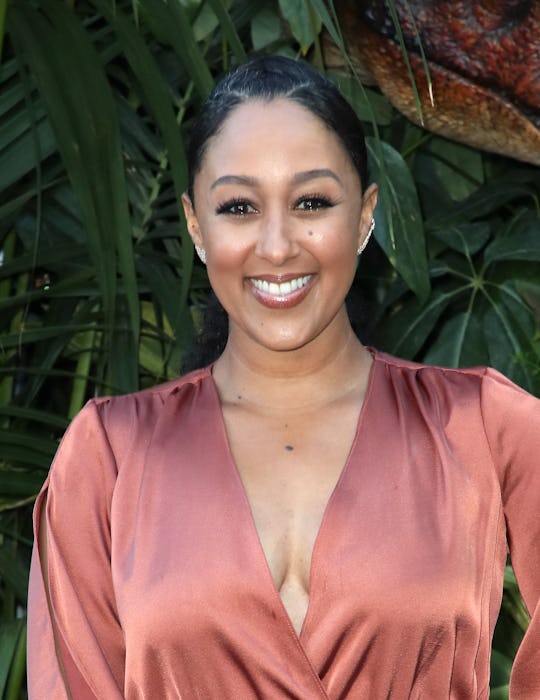 David Livingston/Getty Images Entertainment/Getty Images
Tamera Mowry-Housley Tearfully Returns To TV After Niece's Death In Shooting
Just weeks after her niece died in the mass shooting at the Borderline Bar & Grill in Thousand Oaks, California, actress and talk-show host Tamera Mowry-Housley returned to television yesterday. And Mowry-Housley's tearful message about gun violence is one every parent should hear.
Addressing the audience on her CBS daytime talk show The Real on her first day back after leave to be with her family as they mourned in the wake of niece Alaina Housley's death, according to People, Mowry-Housley was eloquent and articulate, even through tears.
"Our country — and it's sad to say this, but you have to be living underneath a rock to not believe these words — our country is sick," the star said through tears.
"It's diseased. It needs healing. It needs healing from within," Mowry-Housley continued. "We're so divided. We should never have to fight for the safety of our children. We should never have to fight for that. That should just happen out of your heart, out of human decency."
Viewers responded like crazy. "Well spoken words! I sat here in tears feeling your pain. If you make an impact on 1 person it's a start and hopefully that person can make an impact on another!" Tweeted one fan, while another added, "Amen! @TameraMowryTwo you can see her pain through her eyes it breaks my heart to see her hurting."
Mowry-Housley went on to say of Alaina — who was buried Nov. 15 at only 18, according to People — that her relative was a kind person who loved to debate things and took a genuine interest in her younger cousins.
And while she was technically "my niece from marriage, but she was my friend and my sister from my heart," the star added, movingly.
As NBC News 7 San Diego reported, in the wake of the Nov. 7 tragedy just outside Los Angeles, the motive of the attack is still unclear. In addition to Housley, the victims included a first responder to the scene, Ventura County Sheriff's Sgt. Ron Helus, according to the outlet.
Although she only came back to work yesterday, Mowry-Housley asked co-host Adrienne Houghton to read a statement on the air on Nov. 12, according to Entertainment Tonight Canada, in which Mowry-Housley made clear her position on the political solutions needed to ease the gun-violence epidemic in the United States.
"The Housleys will be strong," Houghton read. "We will never let Alaina or any other victim of gun violence die in vain ... [I] will do everything [I] can so our families and communities are safe. Enough is enough."
There are no words that can be said to ease the suffering of the families. But it seems clear that such incidents will never stop repeating themselves until people take a hard look at how our country's founding principals of freedom have been interpreted in a modern age.
It seems that the millions of parents, survivors, friends, lawmakers, and more fighting to make a change will now likely have yet another fighter in their midst.