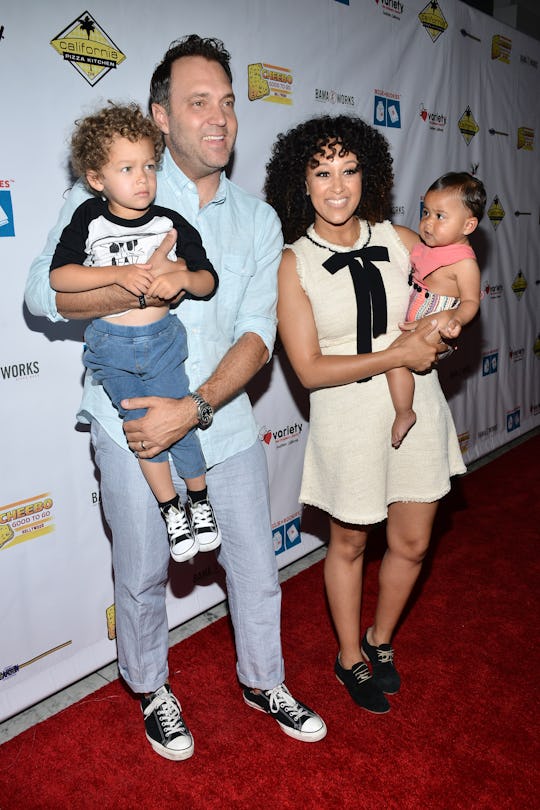 Araya Diaz/Getty Images Entertainment/Getty Images
Tamera Mowry Says Having Two Children Instead Of One Presented So Many New Challenges
Tamera Mowry is not one to shy away from being honest about motherhood and all of the dirty and honest details that come with it. I mean, as a co-host of daytime talk show, The Real, being real is basically in the description of her job title. So, when Tamera Mowry says having two children instead of one presented so many new challenges, I'll take her word for it. Mowry's honesty about motherhood is what makes her so real and so relatable.
Mowry is mother to 3-year-old son Aden and recent addition, Ariah, who is 9-months-old with husband, Adam Housley, a FOX News correspondent. Mowry spoke to US Weekly about the hardships of having a new child at a recent red carpet event.
Its hard. We were in the trenches. It was challenging for the first six months. The hardest part was giving attention to both.
Mowry also spoke to People Magazine about the challenges of balancing two young children, giving insight as to what makes her such an expert on the subject of parenting.
"At first he was a little jealous," she said. "For a year-and-a-half he had all the attention and here is this other little baby that comes in and now she's getting most of the attention. I nursed for about eight months so it was her and me for a very long time."
Mowry's honesty is incredibly helpful to all moms everywhere, especially those balancing two young children or more. It is important to spend time with both children, especially when one senses that the other is getting more attention due to circumstances like breastfeeding.
Thankfully for Mowry and her husband, it seemed like Aden quickly grew out of his jealousy phase.
"That was a bit of an interesting transition, but now he absolutely loves his sister," she told People. "He's an amazing help."
Mowry continued to open up about her children's bond, telling US Weekly, "It was challenging because [Aden] was very jealous and would try and hit her," Mowry said. "But now they are the best of friends. When she sees him she goes crazy with excitement. More than when she sees me!"
But what about a third child? What kind of transition would that be for both young children? According to People, Tamera could see potentially see a new one in her future. "I go back and forth. I'm a little bit older. I'll be 38 and from one to two year difference from just having Aden it's a huge difference on what it does to the body," she said. Tamera has been honest about how her second pregnancy has transformed her body, documenting it all on her blog.
But Tamera is very happy with her family, as it is but does think about having a new child. "I think I have the perfect family," she told People. "Boy, girl. But every other day, I do think about it."
Tamera's honesty about having a second child is encouraging to moms everywhere — being incredibly real about the struggles, successes and temptation to have another.