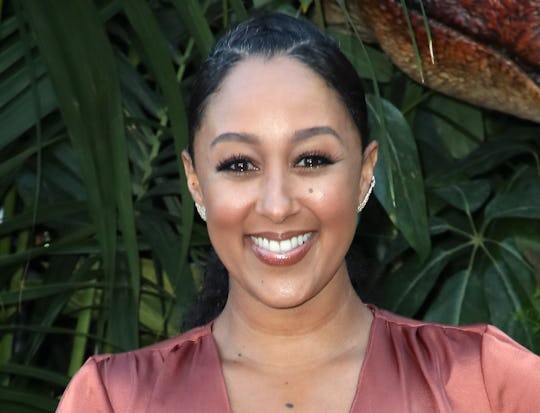 David Livingston/Getty Images Entertainment/Getty Images
Tamera Mowry Says She Gets This *Brilliant* Gift For All Her Pregnant Friends
It can be hard to decide what to buy for a baby shower, even if the expectant mom has a registry. What does she need most? Should you go in on something big with a group? Should you go off-book? Trust me, what you really need to do is take the advice of a mom and baby shower veteran: Tamera Mowry's go-to gift for pregnant friends may not be pretty, but it's absolutely essential, and the mother-to-be will be so grateful once the little poop machine comes home.
"People always forget about the diaper pail," the Sister, Sister star told Us Weekly at the Jurassic World: Fallen Kingdom premiere in Los Angeles earlier this week. "Just get a simple one. They will love it. I love mine." She would know; as the mother of Aden, age 5, and Ariah, who's only 2, she's spent the better part of a decade storing poop in the home she shares with husband Adam Housley. I'm actually cheering for this comment, because I attended a baby shower just last month, and even though I shopped early and had the pick of anything I wanted buy on the registry, I went for the Diaper Genie. Mowry is spot-on.
To be honest, though, I wouldn't recommend a simple one. This isn't a job for a normal trash can; newborns can go through up to 12 diapers per day, according to Babycenter. Now, maybe they have an outdoor trash can or dumpster, and the time and energy to empty the pail daily, but those first few weeks are super rough on most parents, so the diapers might be sitting in there for a full week until trash day, and — I'll try to be very delicate, here — they do not get sweeter-smelling over time, OK?
The Diaper Genie is what I went with because it's what my friend requested, but I also have personal experience with it (two and a half years worth, so less than Mowry, to be fair). There are plenty of other diaper pail choices out there, but make sure you get one that locks in odors, if not for the mom (I don't know, maybe you secretly hate her) then for the baby, because it's probably going to be right next to their crib, and I know I couldn't sleep that way.
If you get to that registry too late and the diaper pail is already gone, though, I have a few more suggestions. First of all, you can never have enough wipes! They're not just for little bums; they're also good for a quick cleanup when the baby has lint between their toes or formula in their neck creases, and when they're older and first start eating solid foods, you'd better believe they're rubbing that stuff in their hair. Diapers are also in high demand, but be careful about sizes; they're only in newborn for so long, and some larger babies may skip that size altogether. Don't go too large, either, though, because the baby might graduate to underwear (knock on wood) before they fit.
The same goes for clothing. Everybody wants to buy cute little onesies and pajamas, but I can't tell you how many outfits my son never even got to wear, either because he had a surplus of clothing in particular sizes, or because they weren't seasonally appropriate. Babies typically go up a size every three months — and they don't always correspond with the months on the labels — so if they're born in the summer, that 3-6 months snowsuit might be too small when winter rolls around. And please, don't buy a blanket. I guarantee at least five other guests already did, and babies don't even use them, anyway. Honestly, the best shower gift I've ever witnessed, other than the diaper pail, was a bulk supply of paper plates and plastic forks. I know it's bad for the environment, but the gift of not doing dishes for those first few weeks will earn you your friend's undying gratitude.