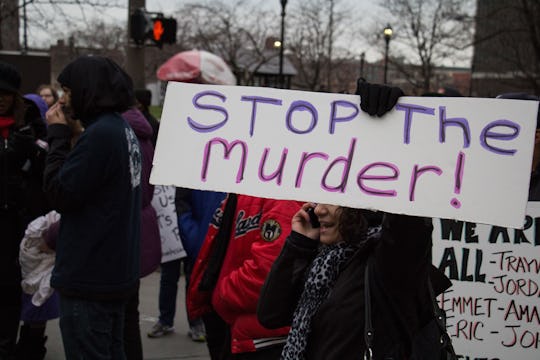 Tamir Rice Protests Make It Clear People Are Refusing To Accept The Grand Jury's Decision — PHOTOS
On Monday a grand jury decided not to indict the officer who shot Tamir Rice in Cleveland last year, according to the Associated Press. Rice was 12 years old and wielding a play gun at a recreation center in Cleveland last November when he was shot by officer Timothy Loehmann, who was in training, according to CNN. An accompanying officer, Frank Garmback,, will not be charged for Rice's death, either. Photos of protests in Tamir Rice's name make it clear that people across the country are unhappy with the verdict – to say the least.
After the decision, special prosecutor Tim McGinty told the court that there's no way the officers could have known what Rice was going to do when he reached for his waistband, according to CNN:
It is likely that Tamir, whose size made him look much older and who had been warned his pellet gun might get him into trouble that day, either intended to hand it over to the officers or show them it wasn't a real gun. But there was no way for the officers to know that, because they saw the events rapidly unfolding in front of them from a very different perspective.
While the officers have not been charged, Cleveland Police Chief Calvin Williams said the officers will be on "restricted duty," according to CNN:
Both of the officers are and will remain on restricted duty. They have been on restricted duty since this incident happened. That's part of our process, not to allow officers involved in critical incidents to go back out there into the fray. They will remain on restricted duty until we complete the administrative process.
A federal review of the case is ongoing, but that hasn't appeased the public in Cleveland or in cities across the U.S., like New York City. While many cities have prepared for protests, the situation on the streets is getting more and more tense.
There Are Those Calling For Peace In Cleveland
But Protests Are Happening Across The Country
More people are making statements on Twitter.
The lack of charges in Tamir Rice's shooting is, to many, another instance of police misconduct, like in the recent shootings in Chicago, and last year's shootings in Ferguson, Missouri, and Baltimore.
This story is developing...
Image: Jordan Gonzalez/AFB/Getty Images