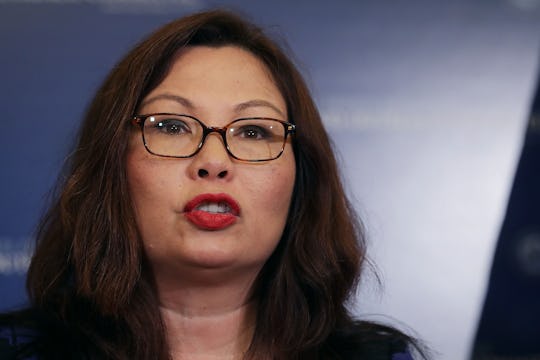 Chip Somodevilla/Getty Images News/Getty Images
Tammy Duckworth Perfectly Nails Why Paid Family Leave Isn't A Handout
The United States is the only industrialized country that does not offer all citizens federally mandated paid family leave and, during an interview in her office, Illinois Sen. Tammy Duckworth perfectly nailed why paid family leave isn't a handout. She also offered some choice words about Ivanka Trump's efforts (or lack thereof) to help mothers with regards to paid parental leave, as a soon-to-be mother herself.
According to the U.S. Bureau of Labor Statistics, only 14 percent of civilian workers were given access to paid leave in 2017, and this was pretty much thanks to state laws and "progressive employers." That's perhaps because, among 41 developed countries, the United States is the only one that does not have a federal law requiring paid leave for new parents, the Organization for Economic Cooperation and Development reported. While Business Insider noted workers are allowed, by law, to have up to 12 weeks of unpaid leave without risking losing their jobs, most developed countries offer an average year of paid maternity leave. About half of EU member countries, for example, offer maternity leave of at least a year — and sometimes even more, CNN reported.
Arguably, the United States has a lot of room for improvement when it comes to support for new parents, and Duckworth is calling that out. She's "a retired lieutenant colonel who served a total of 23 years in the Illinois Army National Guard," won the Illinois 8th Congressional District seat in November 2012, and then became the second female U.S. senator elected from Illinois when she was sworn in on Jan. 3, 2017, reported the Chicago Sun Times.
"I feel like the Senate is actually in the 19th century as opposed to the 21st somehow and that's really unfortunate," she said during the interview, according to The Guardian. She added that there's a real need for "more women in leadership across our country, whether it's legislatively or in boardrooms or the military."
Duckworth is going to be a mother soon herself, according to Vox. There have only been 10 members of Congress who have given birth while in office — all from the House. Those congresswomen include Reps. Yvonne Brathwaite Burke, Susan Molinari, Blanche Lambert Lincoln, Enid Greene Waldholtz, Linda Sanchez, Stephanie Herseth Sandlin, Stephanie Herseth Sandlin, Cathy McMorris Rodgers, Kirsten Gillibrand, Jaime Herrera Beutler and now-Sen. Tammy Duckworth. according to Vox.
Duckworth delivered her firstborn daughter on Nov. 18, 2014 when she was 47 years old and a member of the House. And, while three of the 10 House women went on to serve in the Senate (Kirsten. Lincoln, Gillibrand, and Duckworth), Duckworth will soon become the country's first sitting senator to have a baby while serving in the chamber. She's expecting her second child in late April, just a few weeks after she turns 50, and she's received an outpouring of good wishes that have sparked a national conversation about how women balance positions of power and motherhood (they do it just like fathers). Some well wishers view the baby news as a sign of progress for female politicians, The Guardian reported.
Duckworth decided to run for the Senate while on maternity leave with her firstborn, and becoming a mother influenced her legislative agenda. "As tough as it's been to juggle motherhood and the demands of being in the House and now the Senate, it's made me more committed to doing this job," she told the Chicago Sun Times in January, noting that she now has a better understanding of infant and maternal health issues.
Motherhood has allowed her to bring an underrepresented perspective to Congress, noted the statement from Duckworth's office, so her words are particularly impactful.
"We seem to have this view that paid family leave is some sort of touchy-feely women's only policy," Duckworth told The Guardian recently. "This isn't just an entitlement. It's really an economic imperative for our nation."
She added that she thinks the United States' lacking paid leave policy is putting Americans behind other developed nations and economic powers around the world. Every other developed country has figured out that there is an "economic benefit to taking family leave," she said.
But Duckworth is advocating for change. She has "introduced legislation to expand paid parental leave for members of the military," for example, according to The Guardian. The bill would allow service members to take 12 weeks of paid leave and would ensure that the military creates a uniform policy for giving parents time to bond with their newborns and adopted babies, regardless of their gender. Duckworth has also authored measures to make sure major airports offer areas for breastfeeding mothers to pump milk, and so student parents could have on-campus childcare, according to Complex.
And, along with other Democrats in the Senate, she supports a bill that would "provide up to 12 weeks of leave for family and medical purposes with partial pay," reported The Guardian. The bill, known as the Family Act, was introduced by New York Sen. Kirsten Gillibrand, and it would establish a nationwide insurance program to pay for the leave, funded by employer and employee payroll contributions, according to The Guardian.
Paid leave has become a hot topic since Ivanka Trump claimed to be making it a priority. But Duckworth doesn't think that the president's daughter has done much at all.
"She's really not pushed for it," Duckworth said, according to The Guardian. "She said this is what she wants to work on, but I've not seen anything concrete in the administration's proposals."
If Ivanka Trump is going to let promises fall short, Duckworth is determined to pick up the slack and change the game for mothers in the United States.
Editor's note: After publication, we discovered this article did not meet our editorial standards. There were portions that did not correctly attribute another source. It has been updated to meet our standards.
Check out Romper's new video series, Bearing The Motherload, where disagreeing parents from different sides of an issue sit down with a mediator and talk about how to support (and not judge) each other's parenting perspectives. New episodes air Mondays on Facebook.