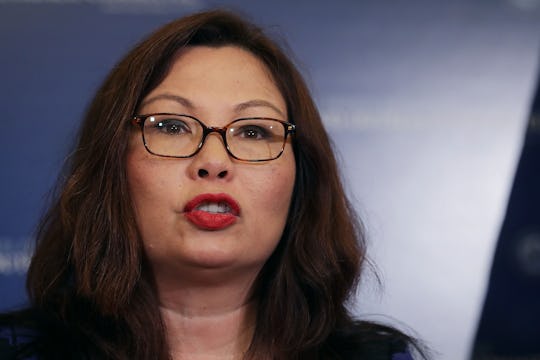 Chip Somodevilla/Getty Images News/Getty Images
Tammy Duckworth Says It's "Ridiculous" Her Pregnancy Is Historic, & She Has A Point
Last Tuesday, Illinois Sen. Tammy Duckworth announced that she's expecting her second child, according to CNN. The great news generated a lot of buzz on the internet because Duckworth will be the first person to give birth while serving in the Senate. Although this milestone is incredibly exciting, Duckworth thinks it's "ridiculous" her pregnancy is considered historic. And to put it plainly, Duckworth totally has a point.
If you've followed Duckworth's career thus far, you know the Democratic senator is no stranger to firsts. For one, she's the first female with a disability to serve in the Senate, and two, she's the first member of Congress born in Thailand, according to The Washington Post. In short: Duckworth is a bonafide trailblazer and she's used to people praising her ability to break barriers. But Duckworth isn't so thrilled that her second pregnancy is being hailed as a historic first and her reason why makes perfect sense.
On Sunday, Duckworth sat down with Nancy Cordes, the Chief Congressional Correspondent for CBS News, to discuss her pregnancy and other related topics. When Duckworth was asked about what it feels like to have her pregnancy be a major topic of conversation, according to the New York Daily News, she responded:
The whole being the first sitting Senator to give birth I think is ridiculous. It's 2018, we need more female senators, there are only 22 of us. But I've been a little overwhelmed by how landmark it is when it shouldn't be -- it's the 21st century.
Preach, Duckworth. It's pretty disappointing, to say the least, that a woman giving birth while serving in the Senate is so headline-worthy. Not only does it show that there's a major lack of females in the Senate (like Duckworth mentioned, there's only 22 of them), but it also suggests that there's still a lot of work to do in supporting working moms.
I don't think it's a big leap to assume that in addition to the glaring lack of women in the Senate, Duckworth's pregnancy is a historic first because pregnant people still face a lot of workplace discrimination. If you Google "pregnancy" and "work," you'll be treated to a ton of articles and personal essays written by women who are nervous about breaking the news of their pregnancy to their bosses. The authors of these articles are worried that either their pregnancy will get them fired (despite the Pregnancy Discrimination Act) or that they'll be passed over for promotions and other important work responsibilities.
Of course, Duckworth can't get "fired" from the Senate for being pregnant. But it's not totally out there to reason that there might be some constituents (and even colleagues) who think that Duckworth won't be able to adequately represent Illinois while pregnant. And although that's a ridiculous and inaccurate notion, I wouldn't be surprised if women serving in public office anticipate this type of reaction when they become pregnant, which is really unfortunate.
Not to mention, there are no policies about maternity leave in the Senate, as Duckworth explained to CBS News:
I was the tenth one [to give birth] in the House, so there was a policy in the House, but there's no policy in the Senate. I have to figure that out.
Yep, a hardworking senator will just have to wing it when it comes to her maternity leave. Let that one sink in.
So, I think the main takeaway here is that the United States needs to do a lot more to support women aspiring to serve in public office and to parents who are already serving. There's a distressing lack of women in the Senate as well as policies to support pregnant senators.
And as for how Duckworth will handle motherhood, pregnancy, and her responsibilities as a senator despite the lack of support, her response is what you'd expect from a bad*ss working mom.
Duckworth explained, according to the New York Daily News:
I'm going to take the time that I need with my daughter, but in the middle of all that, there might be days when I have to, you know, we have a lot of close votes right now, that I need to come in and -- and not let the people of Illinois down.
Duckworth 2020, anyone?
Check out Romper's new video series, Romper's Doula Diaries:
Watch full episodes of Romper's Doula Diaries on Facebook Watch.