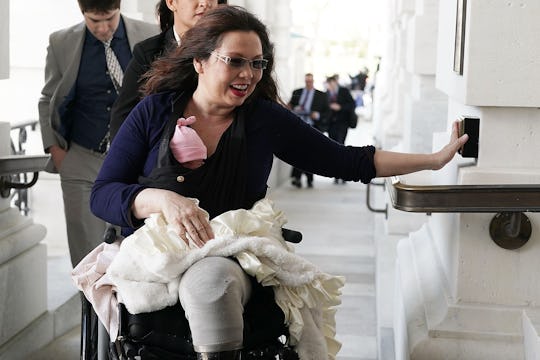 Alex Wong/Getty Images News/Getty Images
Tammy Duckworth Dressed Her Daughter For The Senate "Dress Code," & People Are Loving It
Sen. Tammy Duckworth, a Democrat from Illinois, is changing the game for women in Senate, and it's exciting to watch. Most recently, Duckworth shared her daughter's Senate floor-appropriate outfit on Twitter, and people are loving it. She tweeted a photo of the outfit captioned: "I made sure she has a jacket so she doesn't violate the Senate floor dress code (which requires blazers). I'm not sure what the policy is on duckling onesies, but I think we're ready."
Of the 115 Congresses in the country's history with 1,972 senators representing their states over 229 years, only 51 of those senators have been women. So, needless to say, Congress isn't exactly a female-friendly workplace, let alone mom-friendly. In fact, there have only been 10 members of Congress who have given birth while in office, all of whom were House representatives, VOX reported.
Duckworth, a retired lieutenant colonel who served a total of 23 years in the Illinois Army National Guard, delivered her firstborn daughter on Nov. 18, 2014, when she was 47 years old and a member of the House, according to Chicago Tribune. And now Duckworth has become the country's first sitting senator to have a baby while serving in the Senate. She gave birth to her second child, Maile Pearl Bowlsbey, on Monday April 9, according to The New York Times.
Since then, she's already spearheaded some serious change for new moms in the Senate — and, really, working mothers everywhere. Duckworth wouldn't have been able to bring her daughter along to work, as the Senate has always barred children from its floor. But thanks to Duckworth, the Senate unanimously passed a resolution on Wednesday, which allows Sen. Duckworth and any other senator to bring a child younger than one year old onto the floor during votes, according to The Hill.
Duckworth has reportedly spearheaded the push for the rule change to let children on the floor in the U.S., and said that her fellow lawmakers have helped to "bring the Senate into the 21st Century by recognizing that sometimes new parents also have responsibilities at work," according to CNN.
Now that can bring Maile along, she's planning her outfit and making sure it's appropriate. Twitter users approve and are all about the duckling onesie.
"Petition to introduce a bill that will require all senators to wear clothes with ducklings on them," one tweeted. "If we're honest, the Senate could probably use more duckling onesies," another wrote. Others are sharing their congratulations: "Bravo to Sen Duckworth for paving new paths." Some even want her to run for presidency. "Please run in 2020 for President! Take your baby into the Oval office! If any woman can, it's you!" one said.
Meanwhile, politicians elsewhere in the world have been taking their newborns to work with them, and even breastfeeding, for some time now. Take, for example, Unnur Brá Konráðsdóttir, a member of the Icelandic parliament and a new mother. Konráðsdóttir has taken the podium while breastfeeding her daughter during debates, according to The Independent.
Because she can now take her baby with her to vote, the Illinois senator is able to take maternity leave. She's doing so in Washington, D.C. (rather than in Illinois), to be able to be on hand and available to cast her vote in the Senate if needed, according to The Hill.
"The Senate is leading by example and sending the important message that working parents everywhere deserve family-friendly workplace policies," Duckworth said in a statement after the vote, according to Refinery 29.
Hopefully Duckworth's hard work will inspire companies across the country to reevaluate their parental leave policies and, likewise, allow duckling onesies in the workplace.
Editor's note: After publication, we discovered this article did not meet our editorial standards. There were portions that did not correctly attribute another source. It has been updated to meet our standards.
Check out Romper's new video series, Bearing The Motherload, where disagreeing parents from different sides of an issue sit down with a mediator and talk about how to support (and not judge) each other's parenting perspectives. New episodes air Mondays on Facebook.