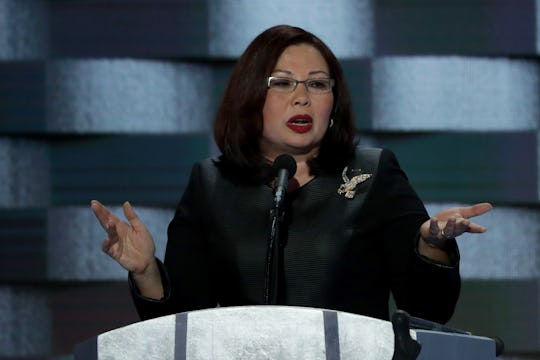 Alex Wong/Getty Images News/Getty Images
Tammy Duckworth's DNC Speech Was Powerful & Important For This Reason
Tammy Duckworth spoke on Thursday to the Democratic National Committee about her time serving in the military and how that experience has informed her current worldview. Tammy Duckworth's DNC speech was powerful and important because she represents multiple groups who that are often underrepresented in positions of power. Duckworth is the first Thai American to be elected to U.S. Congress as well as the first disabled member of the House of Representatives. A representative from Illinois as well as a former assistant secretary for Public and Intergovernmental Affairs in the Department of Veterans Affairs, Duckworth used her platform to speak to her positive view of the U.S. military, poke a bit of criticism at Trump, and advocate for inclusivity of the oft-excluded demographics that she represents.
In 2004, Duckworth's helicopter was shot down while she was serving in Iraq. She credits her survival of this attack to her "buddies," who refused to leave her, referring to her waking up 11 days later "a miraculous second chance." After being "knocked down," Duckworth lost both of her legs and injured one of her arms, disabling her. She made sure to emphasize the difference between her optimism, resolve, and resilience among this adversity to its opposite, saying, "in Donald Trump's America, if you get knocked down, you stay down." She clarified her stance further, and opted to address Trump's association with Russia: "By the way, Donald Trump," she emphasized, "I didn't put my life on the line to defend our democracy so you could invite Russia to interfere in it." Though Trump and Russia have been intertwined in more ways than one, it's likely Duckworth is referring to Trump's recent invitation for Russian hackers to search through Clinton's "missing" e-mails.
Duckworth spoke highly of the significance of Clinton's candidacy, saying that her daughter, Abigail, "already knows that women can fly helicopters in combat, and in 102 days, when Hillary, my daughter's first memories of a president will be of a woman."
Concluding, Duckworth lauded the democratic party for its policies and its perspectives, encouraging that the party carries on with "confidence and pride in who [they] are and what [they] believe." "We stand up for the most vulnerable among us," she continued, "we stand up for immigrants and people with disabilities," identities that are very close to her heart. She ended by encouraging the party to continue to fight for these "basic values" that "will keep America the greatest country in the world."
You may watch Duckworth's address in the video below: