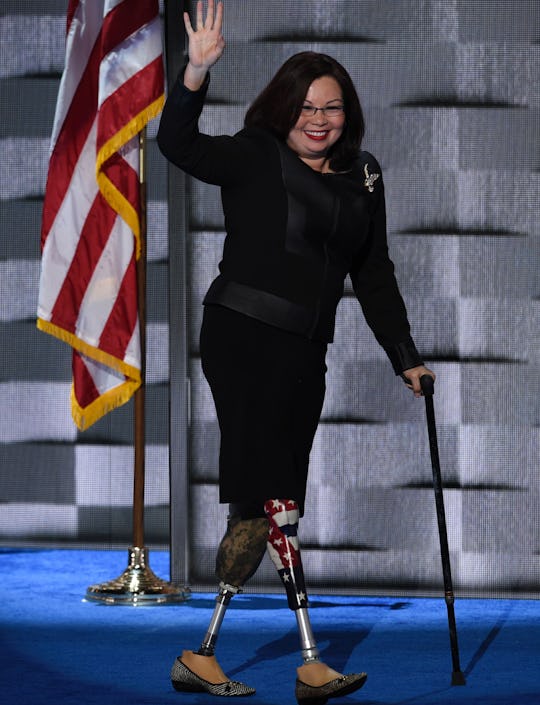 SAUL LOEB/AFP/Getty Images
Tammy Duckworth's Senate Win Is A Major First In So Many Ways
The race for control of the United States Senate has been truly suspenseful, with Democrats and Republicans having virtually even odds of winning a majority. Amidst this larger question of which party will hold the chamber, though, are historical stories of triumph. Illinois Senator elect Tammy Duckworth's senate win is one of these stories. This is major in so many ways. Duckworth will be the second Asian American senator, the first Thai American senator, and the first female senator who has served a combat role in the United States Army. Additionally, Duckworth, who lost both legs after a combat injury, is part of the disabled American community.
Duckworth's win was the first Senate seat reported on Tuesday night to flip from Republican to Democrat. The race between Duckworth and GOP incumbent Mark Kirk had been viewed as close in the very early days of the campaign, but by the months leading up to the election, Duckworth had a fairly clear lead. Kirk is a widely known politician in Illinois, having served for five terms in the United States House of Representatives, representing Illinois' 10th district. Viewed as a moderate Republican on many issues, Kirk was elected to the Senate in 2010, taking former Illinois Senator Barack Obama's seat.
Duckworth, too, has been a well-known and popular politician in Illinois, having represented Illinois' 8th district in the House of Representatives since 2013. She previously worked in the United States Department of Veteran Affairs, and between 2006 and 2009 was the Director of the Illinois Department of Veteran Affairs.
Duckworth suffered an injury in Iraq in 2004 while serving in the Army, and is viewed as a war hero. She had been co-piloting a Black Hawk helicopter that was struck by rocket-propelled grenade, according to an account of the incident at The Huffington Post, and helped land that helicopter despite injuries that resulted in amputations of both legs. For this, she was awarded a Purple Heart.
Kirk had served as a Navy intelligence officer before launching his storied political career. In 2012, he suffered a stroke, and continued to serve as senator despite some questions about his fitness.
A scandal erupted just weeks before the election when Kirk said something rather shocking during the Illinois Senate debate. After Duckworth stated that her family's extensive military service went "back to the Revolution," Kirk said, "I had forgotten that your parents came all the way from Thailand to serve George Washington." Duckworth is the daughter of a Thai mother of Chinese descent and a father who traces his roots to the American revolutionary era, according to The New York Times. Kirk later apologized for his remark.
Kirk's campaign was also dogged by his inability to take a stance one way or the other on Republican presidential nominee Donald Trump, having altered his stance four times during the campaign season, according to The Huffington Post. Ultimately, he stated during a radio interview that he was "pretty frustrated by the choice that we have now."
During her campaign, Duckworth won endorsements from major Illinois newspapers, including The Chicago Tribune and The Chicago Sun-Times. Many proud Illinoisans are looking forward to her years in the Senate.