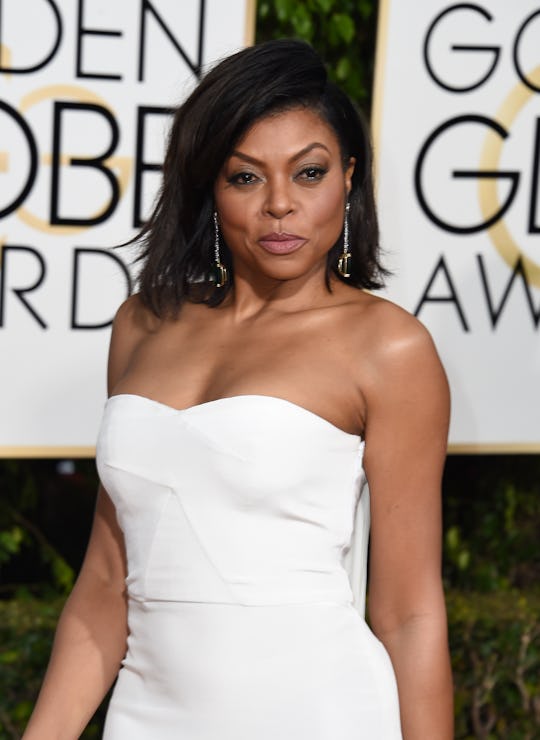 Taraji P. Henson Wins Golden Globe For 'Empire' & It Means More Than A Trophy
The Golden Globes is nothing if not a night of surprises. But that wasn't necessarily the case when it came time to announce the winner for Best Actress In A Television Series — Drama. Though the category was filled with talented women, and featured a mix of fan favorites and newcomers, the award ultimately went to Taraji P. Henson for her portrayal of Cookie Lyon on Empire.
As the camera panned over the audience (and Henson handed out cookies to everybody), you could tell that Henson's peers were expecting her to take home the award. Even her fellow nominees stood to applaud what many thought was an obvious win. I mean, think about it. Although Henson hasn't played Cookie Lyon for long, her work on Empire has earned her critical praise as well as a 2015 Emmy nomination for Outstanding Lead Actress In A Drama Series. It's hard to do battle with a woman who has stats like that.
When it came time to accept the award, Henson made sure to note the irony of this character winning her the award.
Cookies for everyone tonight. My treat. Hollywood Foreign Press, thank you. I mean, who know that playing an ex-convict would take me all around the globe. It just goes to show, I thought it would be Queenie. I thought it would be my character from Karate Kid. It's been Cookie who spent 17 years in jail for selling crack. So the world loves real — thank you.
And when the showrunners tried to cut her off, Henson wasn't having it. "Please wrap?' Wait a minute. I've waited 20 years for this," she said to the teleprompter. "You're gonna wait for me." Henson wrapped her speech by thanking all of her loyal fans, noting that her, "fans have been praying for this. They're all on Twitter like, 'Yeah yeah hope you get it.'"
But this win was more than a boost to Henson's resume. It marked another huge step towards inclusivity and equality in Hollywood. The Golden Globes, and Hollywood awards shows in general, lack diversity among their nominees and winners. In 2016 alone, only six women of color were nominated for Golden Globes for their work in television. (None were nominated for their work in movies. But hey, baby steps.) Of course, as Viola Davis' 2015 Emmy acceptance speech noted, "the only thing that separates women of color from anyone else is opportunity. You cannot win an [award] for roles that are simply not there." Perhaps Henson's victory tonight will be a step towards more leading roles for women of color and more opportunities for them to take home future Golden Globes.
So bravo, Taraji! Cookie Lyon would be proud.
Images: VALERIE MACON/Getty; GiphyGiphn